I saw that this blue DvF dress was marked down a few days ago, and have meant to mention it on the blog — we all drooled over it when it was $398; it's now $160 and has all sizes 0-14 left. But then I dug deeper — and there are a ton of great things in the sale section! I've rounded up some other favorites below, but some quick hits for you:
Kat's Favorite Classiques Entier Sale Items
There are a ton of things in the sale from Classiques Entier — these are my favorites, all priced between $92 and $179.
black dress /gray suit pants (matching jacket) / plaid merino pullover / olive/black dress
Hugo Boss Picks in the Nordstrom Sale
There are tons of great Hugo Boss picks (some of these are down to Classiques prices, honestly! — these range in price from $77 to $375 for the suiting blazer) — some of my favorites include: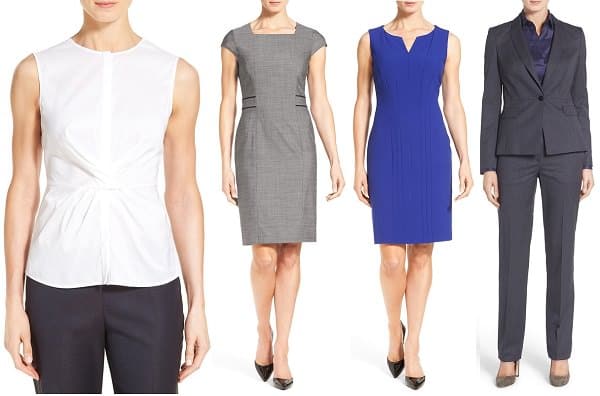 twist blouse / gray dress (matching jacket & pants) / blue dress (similar) / suit (in blue and gray!)
Nordstrom Sale Picks Under $50
There are a TON of affordable options — all of these items (below) are under $50 and have lots of sizes left (and readers LOVE that cardigan).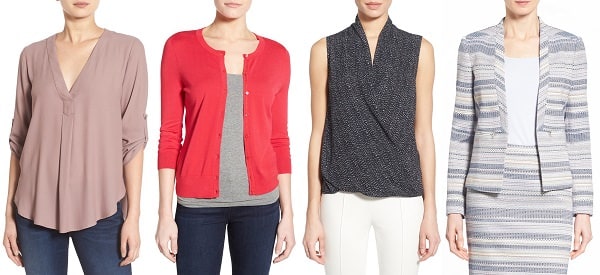 taupey blouse / red sweater / wrap blouse / tweed jacket
Ladies, have you gotten any crazy deals at Nordstrom lately? (I know one reader was just extolling the virtues of their return/price adjustment policy!) Anything you have your eye on, hoping it goes on sale?