One of my favorite series of posts that we've done on Corporette was always the series on stocking your office — what clothes should you keep at the office? What toiletries gadgets? In this edition, we'll talk clothes to keep at the office– and readers, I want you to weigh in! What clothes have you found indispensable for keeping at the office? (Pictured: Just another day at the office, originally uploaded to Flickr by Kees van Mansom.)
1. A suit. The goal of the suit is to be able to look proper if you have to run to court at the last minute, or if you have an impromptu call to meet with the CEO. Note that if you're going to keep a skirt suit, you might want to make sure you've got pantyhose and possibly a razor blade, as well. Make sure that you've got an appropriate top to wear under the suit, as well as appropriate undergarments (i.e., don't wear a sheer white blouse with a black polka dot bra). The suit-on-your-door also comes in handy to have another outfit on hand in the event of a severe food mishap such as a yogurt spill.  (Do note: I have actually had to bust out my suit, when a VIP I was working with unexpectedly called to see if I wanted to talk over lunch.)
2. Extra panties (preferably ones that don't show any visible panty-lines). Yes, it's kind of gross to say, but… if you have to pull an all-nighter… if you need to change into a skirt suit with pantyhose and had been wearing boyshorts… if you actually make it to the gym and need to change into a fresh pair… there are lots of different reasons to keep an extra thong or seamless pair tucked discreetly into a gym bag or in a Ziploc baggy in your desk drawer. (Why a Ziploc baggy? After a while your desk drawers will get gross. I don't know what happens in there — it isn't as if ketchup packets implode — but they just get a bit gross. Take my advice and protect your drawers from your drawers.)
3. A wrap. Some days the A/C is going full blast and there is nothing you can do but wrap yourself up in a shawl. Unlike a sweater, it's generally something you can add to any kind of outfit — a suit looks good with a wrap thrown over it, as does a dress, or even a casual sweater and pants outfit.  (We've rounded up some of the multitude of uses for a wrap previously…)
4. Gym clothes. Dare to dream! There might be some down time and you can actually make it to the gym. (I suggest packing a separate gym bag to keep at the office, but that's me…) If your company has an "office shower" that you may end up using at some point, definitely include flip flops in your supplies.
5. Sneakers. These will come in handy if you make it to the gym… but they'll also come in handy on the off chance you need to leave the office on foot. (God forbid another 9/11 should happen… but it's best to be prepared.) Don't forget athletic socks.
6. An extra pair of pumps. I'll be honest here — I always kept a lot of shoes in my office, sometimes devoting a file drawer (or <cough> two) to shoe storage. This may not be you!  But, if nothing else, bring in an extra pair of pumps that matches your spare suit.
-------Sponsored Links--------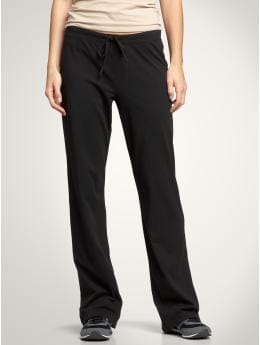 7. Comfortable pants. For some reason, that last minute call to pull an all-nighter always seems to come on the days that you're wearing a skirt and pantyhose… not the most comfortable garb to hang out in for the hours to come. (Also, the work involved in an all-nighter may involve going through dusty file rooms, or require you to sit on the ground to review the paperwork.) Have some comfy pants on hand to change into — make them a classic black pant, such as these simple drawstring pants from Gap, above ($24.50), and you'll always be fit to be seen in them. (Your gym clothes might fit the bill here.) Women: Simple drawstring pants – black

8. Extra nude pantyhose. If you don't already keep a pair at the office for your suit, you may want to keep a pair for general usage. Buy it at the drugstore and shove it in the back of your drawer.  At worst it's $3 you've spent for no reason — but pantyhose can be a lifesaver in a pinch.
9. A black blazer. Blazers make great separates, and can be thrown on top of anything from a jersey dress to a casual sweater if you need to look more professional in a hurry.
10. A winter hat. This is admittedly an extreme suggestion, but I've been thankful to have a hat in my desk drawer many times. There are two situations where this can be helpful: 1) (Primarily in New York): You thought you'd have to work until late in the evening, and dressed for the day prepared to be driven home. But work lightens up and suddenly you can go out with friends, or subway it home — but it's absolutely freezing outside. Add a hat to your outfit and you'll be surprised how warm you are — after all, 80 percent of your heat escapes through your head. 2) The A/C is unbelievably freezing and you're sitting in your office all day shivering. Add a hat — yes, you look silly, but as long as your door is shut, who's the wiser? Again, it'll warm you up considerably, but is easy enough to take off if you need to run to the bathroom or to a meeting.
Readers, what clothes do you keep at the office? What would you add to (or delete) from this list?