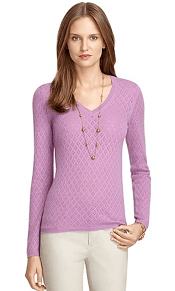 2019 Update: Hunting for the best cashmere sweaters? You may want to check out our most recent roundup, with tons of classic cashmere sweaters for work.
Sure, we all know what basics professional women are supposed to have in their closets, but if you're buying one for the first time or replacing one you've worn into the ground, it can be a pain to find exactly the right incarnation in stores. In "The Hunt," we search the stores for a basic item that every woman should have.
We haven't done a Hunt on cashmere sweaters for a while, so I thought I'd round up a few — while discounts will likely go deeper over the next few months, selection is already dwindling. Cashmere can be a tricky thing to recommend — over and over again I've seen readers commenting about how the softness changes from one season to the next, and how they notice differences in softness even between colors in the same season (not to mention taste differences from one person to the next — my most hated cashmere sweater was an itchy, misshapen mess that came from a mass retailer that I've seen numerous folks recommend specifically for cashmere) so this is all a bit of a crapshoot online. That said, if you're busy and don't feel like taking a weekend afternoon to go touch cashmere, these would be some of my first stops when looking for myself. These brands aren't included in the roundup, but I've also recently seen readers recommend Land's End (rec here), Akris cashmere (rec here), and Michael Kors cashmere (rec here), just to round up a few — I didn't include an Inhabit NY sweater this time but I've been a fan of the sweaters I've gotten from them before. (I've also been intrigued by Everlane's cashmere for a few seasons now, but haven't found the right shape for me just yet — it looks like they currently have an interesting tunic that might be nice for the weekend, but it's either sold out or waitlisted right now.) Readers, what brand is your favorite cashmere sweater? Where is your first stop when hunting for cashmere for yourself — and what shapes do you think are essential (e.g., turtleneck, v-neck, boyfriend cardigan, shrunken blazer, etc.).
Before we get to our featured cashmere sweaters for work for today, here are some of the greatest hits from our Workwear Hall of Fame – cashmere sweaters that have been around for years and are loved by all!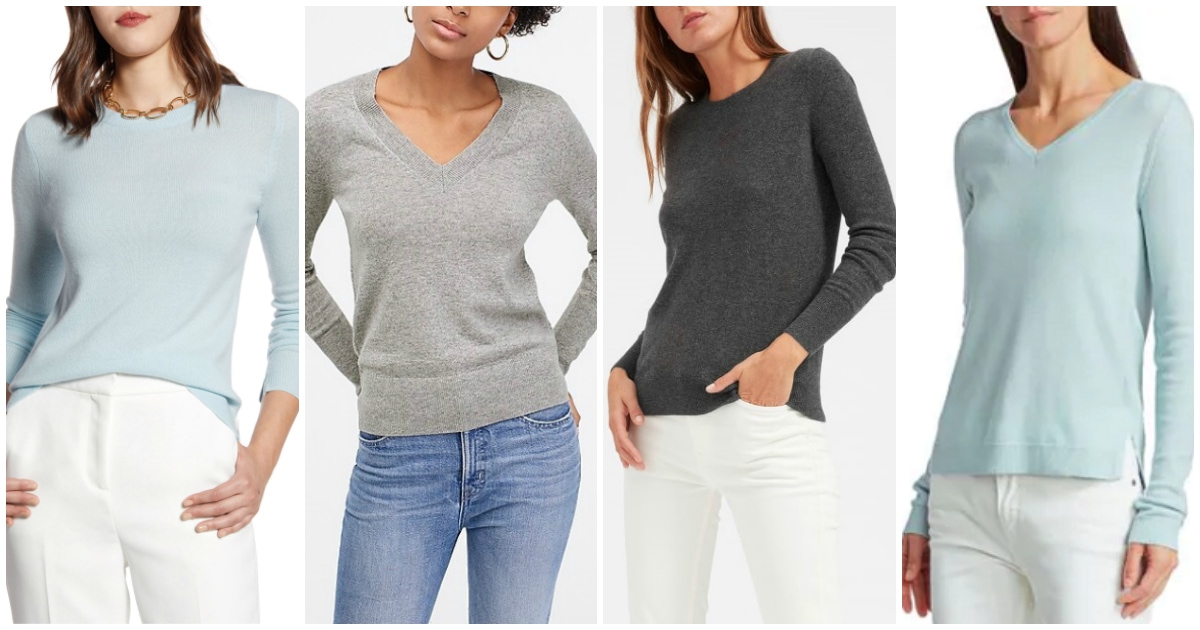 pictured above (2019 update): blue / gray V-neck / gray crew neck / blue

I've never purchased Saks Fifth Avenue BLACK label cashmere, but this is an amazing deal if you happen to like one of the colors left in your size: the v-neck was $260, now marked to $57. It originally came in 8 colors, which is always a good vote of confidence. Saks Fifth Avenue BLACK Featherweight Cashmere Sweater
Corporette readers have sung the praises of J.Crew's collection cashmere many times (but there are a lot of people who dislike it also) — this cashmere cardigan was $188 (tons of colors left full price) but is now marked to $139 in "barbary plum" and "green ribbon", and with code FUNSALE it comes down another 40% to $83.40. Final sale only, alas. Collection cashmere cardigan
Neiman Marcus is another store that gets a lot of mixed reviews from readers, but they have an awesome selection right now. This cashmere turtleneck is a classic piece that every woman should own, IMHO — it's a great basic under suits, with pencil skirts, and more. It was $275, but is now marked to $120; available in ten colors. Neiman Marcus Cashmere Long-Sleeve Turtleneck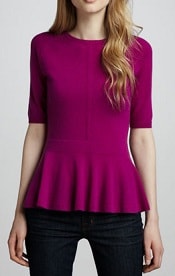 The softest, most luxurious sweater that I own (worn to death and still going!) is August Cashmere — I found it on deep discount at Bergdorf's or Barney's years ago. This trendy peplum, half-sleeved top has a lovely color, and is marked from $297 down to $178. Autumn Cashmere Cashmere Half-Sleeve Peplum Top
Brooks Brothers is one of the other places that I look to for my own cashmere needs — Italian cashmere, woven in Scotland — score! I like the texture and muted colors on this pointelle sweater (it's pictured in lavender at the top of this post) — it was $398, but is now marked to $199. Brooks Brothers Pointelle V-Neck Cashmere Sweater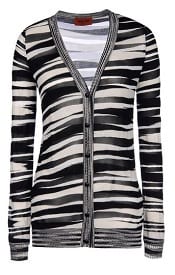 Cashmere/silk blends are hard to find (this one is 44% rayon, 39% cashmere, 17% silk), but I do tend to like the added softness, warmth, durability, and more that comes from the silk. This Missoni cardigan is a splurge even at 50% off, but I think it's a piece that would stay in your closet for years. It was $840, now marked to $420. Missoni Cardigan
Like this feature? Check out other recent installments!