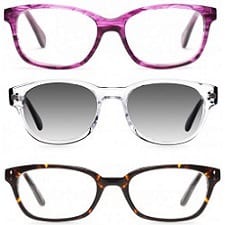 A reader wrote in the other day asking me to update our post on how to buy eyeglasses online — I'm still buying them (a pair or three every two years, approximately), so I thought we'd talk about the best online glasses stores for women because finding cute eyeglasses for women — online — can be difficult. As a reminder, these extremely affordable options can be great if you're the kind of person who likes to change eyeglasses frequently like other accessories, if you're looking for a back-up set to keep at your office, or if you've got a situation where someone keeps losing them, destroying them, or more. (I started buying online after my first son destroyed two pairs of eyeglasses…) Note also that if you have flexible spending dollars to spend before the end of the year, many of these will qualify, so now is a great time to buy.
I've bought from GlassesUSA most recently, but there are a lot of other great places to try out…
Some general tips for buying women's eyeglasses online:
If you have a pair of old eyeglasses you love, measure the frames, nosebridge, and more — and take a picture of your eyeglasses (and you in them) so you can save it in your files. I regularly compare the measurements of old eyeglasses to new ones I'm considering.
I find it easiest to winnow down the selection if I'm looking for one particular color, so I almost always sort by blue — for you that may be clear, tortoise, or something else.
When in doubt, pay for a thinner lens.
Unfortunately, most prescription sunglasses can't get a really dark tint — I still love them. I started buying them back in my contact days so I could go for a run in the morning without putting my contacts in before my shower; now that I wear eyeglasses 90% of the time, I'm thankful to have more stylish sunglasses that I can also see out of.
I tend to save any relevant pictures and measurements into one folder on my desktop– if I take pictures of home try-on glasses, if I save the "virtual try-on picture," etc — and then I can flip through all of them at once on my computer.
Note the return policy carefully – most stores have really excellent return policies, just check before you buy.
Consider recycling your old eyeglasses when you're happy with your new ones.
Some of the companies we covered in our first round-up are still around, and we won't go into them too much today: