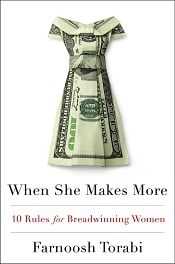 Women breadwinners is a topic we've touched on before: we answered a reader question about dating a guy who makes significantly less money, and a few breadwinning readers had some interesting comments on our recent Tales from the Wallet about managing your money after you get married. I was curious (and excited) to hear about an entire new book examining how relationship dynamics change when the woman is the breadwinner, and reached out to the author.  Please welcome Farnoosh Torabi, sharing an adapted excerpt from her book When She Makes More: 10 Rules for Breadwinning Women. – Kat
Evidently, if you make more than your man, you're more likely to be the one in control of the money. My nationwide survey co-conducted with clinical psychologist Brad Klontz revealed that women who bring home the bigger paycheck are significantly more likely to be the primary decision makers on money matters and take charge of things like paying bills, budgeting, saving, and planning for retirement.
But while such an arrangement has its advantages, it could also be asking for trouble. It calls for a new rule.
A sense of equity between two committed people is important, even if there's an income disparity. But to keep a man's dignity and sense of engagement, he needs to feel like he plays an important role in the relationship and that he's not completely isolated from the financial decisions. And for a woman to keep her sanity and sex drive alive, she shouldn't have to do the equivalent of a CFO's job after she's gotten home from her 9 to 5 (or 7 to 11).
Consider this scenario: When Kyle lost his job in IT, his social worker wife Lynne suddenly became the breadwinner for their family of six. The Houston couple's income shrank by 50 percent, but their bills continued to pour in. The stress was mounting, so Lynne took it upon herself to manage all of the family's finances (i.e., paying bills, balancing the checkbook, managing the savings account), while Kyle buried himself in his job search. It felt like she was helping out — why saddle Kyle with more work when he could be polishing his resume and practicing his interview skills? But in taking over the finances, Lynne cut Kyle out of the decision-making process. Yes, she took care of the bills, bought the groceries, but she also did not appreciate when her husband used their discretionary money to buy, say, a new pair of golf shoes. And thus a vicious cycle was born: Kyle, grasping for some sense of autonomy and dignity, started making (and hiding) personal purchases outside of the budget. Lynne then clamped down tighter. Both started to lose respect for the other.
The challenge: How can men and women help each other not just feel, but be accountable for their finances when she makes more? From a practical standpoint, who pays for the mortgage, vacations, and everyday living expenses? From an emotional standpoint, how do you make him feel like a player and that his contributions — financial or otherwise — matter? What steps can a couple take to reach financial fairness? Although he may not make as much, how can he feel as involved with and connected to their shared financial life as she is? The answer lies in the following When She Makes More rule: Level the Financial Playing Field. In every relationship the solutions are different and no one way is necessarily right or wrong, as long as both of you are on the same page and agree to these simple protocols: