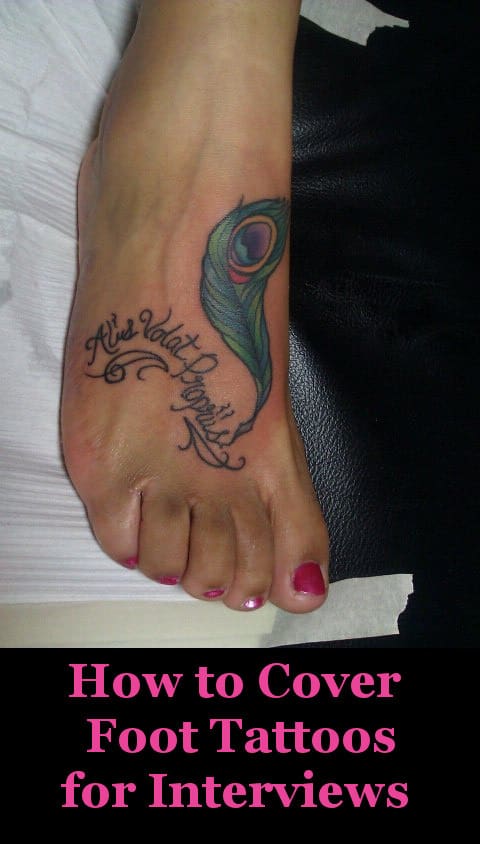 Should you cover a tattoo for an interview?  What if it's in a place that's hard to cover — should you go the extra mile just for the interview?  Reader A wonders about her foot tattoo:
I am a 2L at a Midwestern law school and going through the interview process for next summer. I would like to build my professional wardrobe, but shoes always stump me. I have a tattoo across the top of my foot; a quote in black ink. I would like to cover it up for interviews and other conservative, professional events, but still look feminine, professional, and seasonal.

The compromise I have come up with is either wearing a pant suit with black leather booties or a skirt suit with black pantyhose and pumps. Either option is too hot for the summer and prevents me from wearing other colors.

Any advice for cute, professional shoes that would cover my ink and allow me to lighten up my wardrobe?
Great question, reader A!  I was just talking with a reporter about looking professional with tattoos, and I'm surprised we haven't covered them since our interviewing with tattoo sleeves post a few years ago.  In general, I agree with my old advice, which is that you should a) avoid getting visible tattoos in the first place, and b) keep your tattoos covered for interviews, big/first meetings, court appearances, and more.
Here's the thing, though: a foot tattoo is kind of hard to cover up easily.  Something to keep in mind when interviewing is that a very conservative job may require you to keep a tattoo covered almost all the time — so consider beginning as you mean to go on.  By this I mean: If you're ok with taking the steps below on all but casual days (after you've gotten to know your office, of course), then great.  But if this all sounds like a lot of work and you plan to wear regular pumps or ballet flats 90% of the time, you may want to consider just leaving the tattoo exposed during part of the interview process (such as the second round of interviews), since this will weed out a lot of fit problems with your future office early on.
That said — here are some solutions for covering tattoos that may work for you if you want to wear the most conservative, safest outfit choice for an interview — a skirt suit, nude-for-you pantyhose, and comfortable pumps or flats: