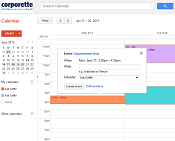 How do you stay on top of hair cuts and other personal care appointments when you're a busy professional? Reader S, who is about to start as a summer associate, wonders…
I'm in law school, about to start as a summer associate at a firm in NYC, and I was wondering if you had any advice on scheduling appointments while working at a firm. I know that as a summer, I probably won't have the same workload as I would as a junior associate, so this is mostly a question for the future. When you were in BigLaw, how did you stay on top of things like hair cuts and waxing appointments? It just seem like the hours you need to be working and in the office would make it really hard to schedule things in advance or take the time off to get in with your favorite person.
Great question, S — for my $.02, the answer is to make friends with your calendar system. Let me explain:
– Schedule appointments at the first or last appointment of the day. Doctors, hairstylists, it doesn't matter — everyone who is appointment-based falls behind. Another option: take advantage of weekend appointments where offered.
– Schedule WELL in advance. The first or last appointment of the day (or the weekend appointment) can be really hard to get, which is why you should try to schedule everything ahead of time, when you can afford to wait a few weeks or months. In fact, it's often easiest to book your next appointment at the salon or doctor's office. This is where trusting your calendar system comes into play — if you're making a haircut appointment ten weeks in advance (or a dentist appointment six months in advance) you need to really be able to trust that you'll be aware that it's coming on your calendar, so you can change the appointment if necessary, make sure you don't doublebook the time, and more. This is true for doctor's visits too — there's no reason you can't schedule your annual checkup two months in advance. I use Google Calendar and the email and pop-up reminders that it comes with, and I like that it syncs with my phone, iPad, and more. I often add my own appointments to my husband's calendar as well if it might affect childcare (you can "invite guests" in Google; when he accepts the appointment it's added to his Outlook calendar).
– Factor maintenance time into any new looks. For example, an angular hair cut or a hair color many shades away from your natural one may require frequent visits; I've heard the same about pixie cuts. Even bangs (if you can't cut them yourself) can require you to be at a salon for a few minutes on a regular basis, which can be onerous with travel and wait times. As for waxing, if you budget allows you may want to consider laser hair removal — the visits are about as frequent as waxing for the first six visits, but after that, they're much more infrequent (once or twice a year for most people).
– Finally: try to make any wait time productive time. Leave yourself a slew of emails that are acceptable to answer on your phone; bring a bunch of reading that you can get done while in the waiting room; be sure to bring a pen to take notes by hand. To the extent you can, stay connected to the office (check your email and voicemail, tell your secretary where you are and how to reach you). Obviously, unplug and be present for the appointment itself. (I've never quite "enjoyed" a waxing or teeth cleaning, so I won't use those words, but if you're getting your hair cut it's ok to bliss out for the 30-45 minutes of the haircut itself, it makes sense to devote your full attention to a doctor's visit.)
Readers, what are your tips for scheduling appointments?