Sure, we all know what basics professional women are supposed to have in their closets, but if you're buying one for the first time or replacing one you've worn into the ground, it can be a pain to find exactly the right incarnation in stores. In "The Hunt," we search the stores for a basic item that every woman should have.
I usually like to use The Hunt for a basic, timeless piece that everyone needs — cashmere sweaters, strappy pumps, etc — but when I got a request from a reader looking for layered sweaters, I thought, ooh, that would make a fun Hunt — they have been EVERYWHERE recently, and the sweater-and-collar look can be tricky to get on your own.  Some people have DIY solutions for the bulkiness that ensues, while for others static cling  is more of an issue — even rolling the sleeves can take some skill.  Still, I think it's a classic look that range from "very preppy" to "casual" (such as the option from Loft, below) to some of the newer looks that are almost cropped sweaters with tunic blouses (such as here or here).  Ladies, what are your tricks for getting the layered look — short of buying a 2-in-1 sweater or wearing a collared dickey?  What rules do you think apply to the office? 
I'm not always a huge fan of Forever 21, but if you're on a budget and looking for a no-fuss collared blouse, this one is only $19.80 and comes in three colors.  Only the blue still has sizes left online, but check your local stores if you're really on the hunt.   Forever21 Layered Collar Sweater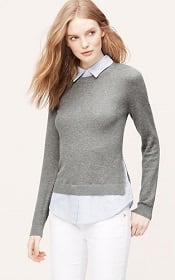 This textural two in one sweater from Loft is definitely a bit more on the casual side, but it looks really soft and flattering — there's 10% silk in there.  It's available in sizes XS-XXL at Loft for $59.50. (This similar style is down to $25 today).   Loft 2 in 1 sweater
I saw this one on Shark Tank recently and really liked the idea: it's shapewear, but with a collar built in. Admittedly you can't do the untucked-chic look, but for work you don't often want that anyway. It features four working collar buttons, and comes in sizes XS-XL for $68 at The Grommet. (If you're new to the Grommet and want a $10 credit on your first purchase, here's a referral link for you.) Skinny Shirt
LOVE the edgy take on the look with this leather point collar attached to a wool sweater.  (I'm also a fan of the feminine keyhole detail at the back).  It's available in three colors: gray, black and olive, and is marked down from $159 to $129.  Club Monaco Mackenzie Sweater
This sweater is a teeny bit over the top, but that's kind of what you want for a $1100 sweater (marked down from $3150!).  That collar is leather and goose feathers, ladies — it's beautiful and unique.  (Definitely for the woman comfortable with making a statement, though — and possibly enduring some itchiness.)  As mentioned, the sweater was $3150, but is now on sale for $1102.  Some other lux options here, here, and here.  Valentino Pullover Sweater with Feather Collar
Like this feature? Check out other recent installments!