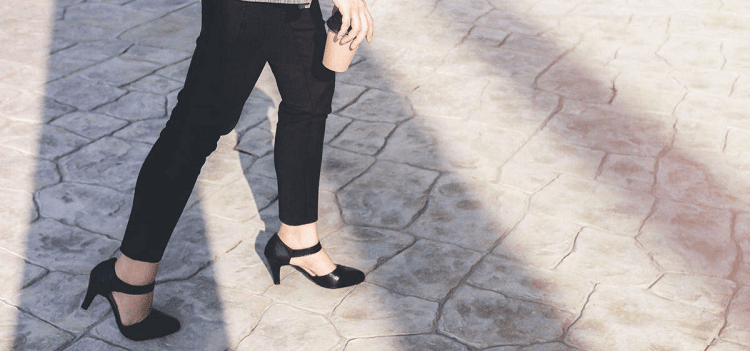 Here's something we haven't talked about in far too long, ladies — which are your top 10 most comfortable heel brands? We last did a roundup of everyone's favorite brands for comfortable heels maaaany moons ago (2012!) and there have been some changes since… which are your favorites?
While there are definitely well-known comfort brands that are maybe a bit frumpy or funky, I've always thought the magic lies in knowing which regular, popular brands are ALSO really comfortable… I'd love to hear your list, ladies!
Here are my top 10 brands for comfortable heels — many of them have been reader favorites for years, but others may be new on your radar…
This post contains affiliate links and Corporette® may earn commissions for purchases made through links in this post. For more details see here. Thank you so much for your support!
The above photo is a stock photo, but these heels may be similar to the ones pictured: one / two / three / four
10. Affordable Comfortable Heels: Dexflex Comfort
Readers have long sung the praises of this classic comfortable, affordable heel, but the whole line gets good reviews if you're looking for budget-friendly comfortable heels! Note that Amazon also sometimes carries the line.

9. Widely Available Comfortable Heels: Sam Edelman
Not only does this brand have a great cushioning system, but many colors are available in multiple widths and extended sizes 4-13. Other contenders here: MICHAEL Michael Kors and Calvin Klein.
We're picturing all of the Sam Edelman heels in black, but you'll be surprised by how many colors, prints, fabrics and textures they come in… Note that you can find them at Nordstrom, Zappos, Amazon, 6PM, Bloomingdale's and Lord & Taylor.

8 & 7. Not a Surprise Comfort Heels: Rockport & Clarks
Rockport's Total Motion line has been a reader favorite for years, particularly because of the cushioning system that used Adidas technology. (Update: Looks like Adidas and Rockport have parted ways — if you liked the brand in the past, stock up now!)

Rockport, pictured above: one / two / three
Clarks can definitely run on the funky side, but readers have always sworn by the brand for their intense cushioning system, and with the full price being under $125 (and frequent sales!) they're definitely a great affordable option. A similar brand in this price point but not a lot of heels right now: Vionic.

6 & 5. Comfortable Heels You Can Buy In a Mall (Tie): Naturalizer & Aerosoles
Don't discount these brands just because they're available in a mall — there are great options for style, particularly trendier things. Obviously, both brands are sold at Zappos; Naturalizer is also found at Nordstrom.
Naturalizer's N5 Contour system is pretty great. They describe shoes with the system as offering extra cushioning, a breathable lining, balanced heel to toe, and flexible soles, and note that they are made with lightweight but durable materials.

The Aerosoles wedge pictured below (#2) is a best seller at Zappos and occasionally comes in fun prints; for example right now you can get a black leather upper with a leopard wedge.

4 & 3. Stylish Heels You Didn't Know Were Comfortable: (Tie) 1.State and Franco Sarto
Franco Sarto is old on the scene, whereas 1.State is relatively new — still, both brands are worth checking out if you want things that are a bit more on the trendy, stylish side. Another brand to keep an eye on: Marc Fisher LTD — in particular, their block heel pump is hugely popular right now.


2. OG Comfortable Heel: Cole Haan
Cole Haan Air was, for many years, the default comfortable heel for women getting started. It was a collaboration with Nike Air! The shoes were mostly affordable (generally under $300!) and super stylish! There have been some fits and starts in the years since the collaboration ended but they're still going strong. Their bow pumps are still some of the brand's best-sellers (there's a waterproof version now 60% off at Nordstrom!), and while Nordstrom doesn't carry their classic 75mm heel anymore, Zappos does. The shoes pictured below are all under $200.

1. Splurge-Worthy Comfortable Heels: Salvatore Ferragamo
If you're looking for a brand with extended sizes and widths, AND open to splurging on a heel that's $500-$700 — it's hard to find a more reliable "fancy comfortable heel." Readers were just talking about how most female law partners they know wear Varas (pictured below) — and there are always seasonal colors and prints or sculptural heels if you want a bit more "fashion cred." We haven't updated our guide to designer shoes in a long while, but other brands on my radar for comfortable heels in this price range include Jimmy Choo, Miu Miu, and Aquazzura.

How about you, readers? What are your top 10 most comfortable heel brands? Which ones do you swear by for style AND comfort, and which ones are just so comfortable that you're willing to sacrifice style (and maybe use them for commuting shoes)?
Stock photo credit: Fotolia / blacksalmon.
This post contains affiliate links and Corporette® may earn commissions for purchases made through links in this post. For more details see here. Thank you so much for your support!