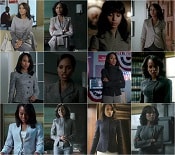 How do you feel about Olivia Pope's clothes on Scandal? Let's discuss her character's fashion choices!
(It has been eons since we did a 360 Review — if you're not familiar with them, our reviews examine a fictional "professional" woman's attire and critique the wardrobe from all perspectives: underling, boss, friend.)
Readers have been fans of
Scandal
for years, but I am late to the party — after
this clip
on sexism in politics made the rounds (and seeing Kerry Washington's awesome appearance on SNL, including the
parody of "What's the Fox Say?"
) I finally invested the appropriate amount of time to binge watch the first three seasons. New episodes start on February 28 (eee! yay!), so now seemed like a great time to discuss. Two more miscellaneous notes before we begin:  a) I'm still disappointed that the love of her life is the bad guy from
Ghost
— not my favorite actor or character, and b) The New Yorker recently had a short fictional story about
Olivia Pope helping Chris Christie
, which hilariously nails the more absurd lengths to which the plot's been taken lately. But ANYHOO: Fashion. Let's talk.
The first time that we as viewers meet Olivia, she's already a big deal — we know from the first few minutes of the show that the mere mention of her name has made a potential hire stop breathing; her interviewer jokes that she would "kill puppies for this job." Her first outfit shot is this white trench: gray trousers, white trench, white blouse. This is a big trend for Olivia Pope — she often wears very light colored outfits, even more impressive considering the only food we ever see her really consume on a regular basis is red wine. Some thoughts:
As her boss:
Ha! Olivia Pope has no boss. (In a fairly great speech, she even yelled at the President (of the United States) that he should "
earn her
.") Let's assume she has some superiors, though — I would think she looked great.
As her equal:
Ha! Olivia Pope has no equals. Still, let's assume she does — if I were working at the same level as her in a job I would probably be a little/lot jealous, unless I also had impeccable hair and the ability to effortlessly maintain the whiteness of  white trenches. My opinion of her would probably be a bit that she was a princess — a woman who takes cars everywhere and does not do the heavy lifting.
As her underling:
I'd be in awe of my boss's impeccable hair and effortless, all white/gray/beige wardrobe.
No one messes with Olivia Pope's
coat collection
— it is almost as varied (and expensive) as her bag collection. This "pearl" pink coat from Ferragamo — which actress Kerry Washington allegedly
hated at first
because she thought it was too girly — is one of her iconic looks. But is it a good one?
As her boss:
I wouldn't think too much about a pale pink coat, honestly — it looks amazing with her skin tone. The off-the-shoulder drapey thing would make me wonder, but it doesn't seem to inhibit her movement, and actually looks kind of great over a blazer (in the first picture).
As her colleague:
Seething hatred. Flames! Flames, on the side of my face. I can barely get to work without spilling coffee on my black coat and she's prancing around in a pink off-the-shoulder coat? Are you kidding me?
As her underling:
I would live in awe of my boss and her perfect pink coats. Unless she was mean to me, in which case I would probably mercilessly mock her OCD habits behind her back — if I dared.
OK. If I've seemed slightly critical of her wardrobe, it's just my snarking on her impeccable white/gray/beige wardrobe.
In reality, this show is a fashion bonanza — particularly for blazers. 
She has an extensive, fun, fashion forward blazer collection — she wears things with a vintage vibe, she wears things with a military vibe, she wears things with fun button/pleating/peplum details — and it's a joy to see her in them. I'm sure the average price of each of the above blazers is $1000, but I still think this idea — in spirit — is something that every woman can use for inspiration for her own working wardrobe. (Hat tip to
The Vulture
.)
Boss, Colleague, Underling:
She looks amazing and professional.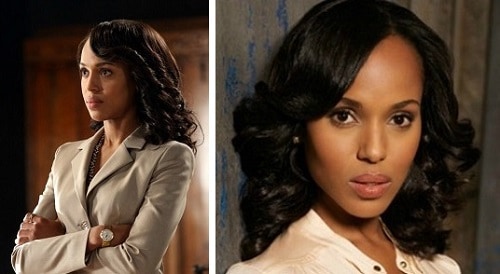 In my mind, here is how we know that she's truly a character instead of a person: her hair is too perfect. How many hours a day does this woman spend with her curling iron?
Honestly, I feel like this is where we enter the territory of "curly hair isn't professional" — I think naturally curly hair by itself is fine, but big crazy curly hair that obviously takes 60 minutes or more doesn't seem professional to me. (Sometimes hair can be sneaky, of course — I spent all last season of The Americans obsessed with Keri Russell's seemingly effortless hair, and when I finally found a tutorial it sounds like it involves straightening her hair, setting it in pin curls, and then flat-ironing it, which I can't imagine being a slow process (or terribly healthy for her hair). On the flip side, for some women it really is the easiest thing to sleep in curlers and wake up with bouncy curls — but it looks like it takes hours, so people think it isn't professional. No, we can't win.)  Even Veronica's wardrobe on Better Off Ted just let her go with the "I'm busy and going to whip this hair into a bun" look. I'm also not a fan of the 70s flip for the office — but maybe that's just me. 
(Hat tip to
BlogHer
, which has an entire "Olivia Pope weave history.")
(Update:
And I'm going to take out my comments on "professional women don't spend three hours each day on their hair," since some readers are taking the comments in a really wrong way, which makes me think I've written it poorly and picked a poor time to introduce the topic. My apologies to anyone I offended.)
That's my $.02 — what do you guys think of Olivia Pope's fashion? Do you agree with me that it's just a leeeetle bit too perfect — or do you think it's something to which you can realistically aspire? Which blazer is your favorite? What story line are you most looking forward to seeing when episodes start again?
(L-#)
We are a participant in the Amazon Services LLC Associates Program, an affiliate advertising program designed to provide a means for us to earn fees by linking to Amazon.com and affiliated sites.