This is the first in a series on New Year's resolutions. We plan to do one on eating less and another on spending less — let us know if you've got a resolution you'd like us to cover.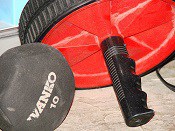 Over the years, we've made far too many resolutions — some were successful and some were not.  The one we make every January, however, is to really commit to a workout regime; even if only to offset all those extra holiday calories.
Photo credit:  work it out, originally uploaded to Flickr by IamSam. Psst, check out more recent articles on exercise for busy professionals here. 
If you're like us, here's where you get stuck with the workout resolution:
– you find working out on machines at the gym to be mind-numbing and not that great of a workout
– you find classes at the gym to not fit in your schedule reliably (in the morning they're all either way too early or way too late, and at night they're all way too early) — plus if one last-minute thing comes up at the office your good intention of making the class is blown [Read more…]