2019 Update: We still stand by this roundup of sheath dresses for work — but you may want to check out our most recent discussion of the best dresses for work!
Sure, we all know what basics professional women are supposed to have in their closets, but if you're buying one for the first time or replacing one you've worn into the ground, it can be a pain to find exactly the right incarnation in stores. In "The Hunt," we search the stores for a basic item that every woman should have. Today's Hunt: the best sheath dresses for work!
The sheath dress is an easy basic for so many offices, from formal to conservative to business casual. It's hard to go wrong with the sheath dress, but watch out for these pitfalls when buying it:
is the cleavage too low?
is the hem length appropriate for work?
does it have any trendy detail that will make it more memorable and thus less wearable in regular rotation (exposed zipper, embellishment at neck, etc)?
is the skirt's slit too high (sit down and do the mirror test to make sure!)?
does the dress look "tailored" (good) or "body conscious" (less good) to you?
can you wear a normal bra with it? (some of the versions out this year are almost like halter dresses, with a lot of the shoulder exposed — I'd put those in the "less appropriate for work" bucket)
Once you've purchased your new wardrobe workhorse: make sure you cut your vents. Hang the dress up immediately after each wearing and let it air out a bit. If it's part of a suiting set, be sure to dryclean all your pieces together so they show the same wear and tear. Pictured immediately below are some of our Hall of Fame favorites — the best-selling, classic dresses we've drooled over for years — but we've also rounded up six of the best sheath dressses for work in 2017 that we've just noticed (including some killer sales). Ladies, which are your favorite sheath dresses for work right now? What are your favorite features (pockets, machine-washable) for your sheath dresses?
First up, the classics: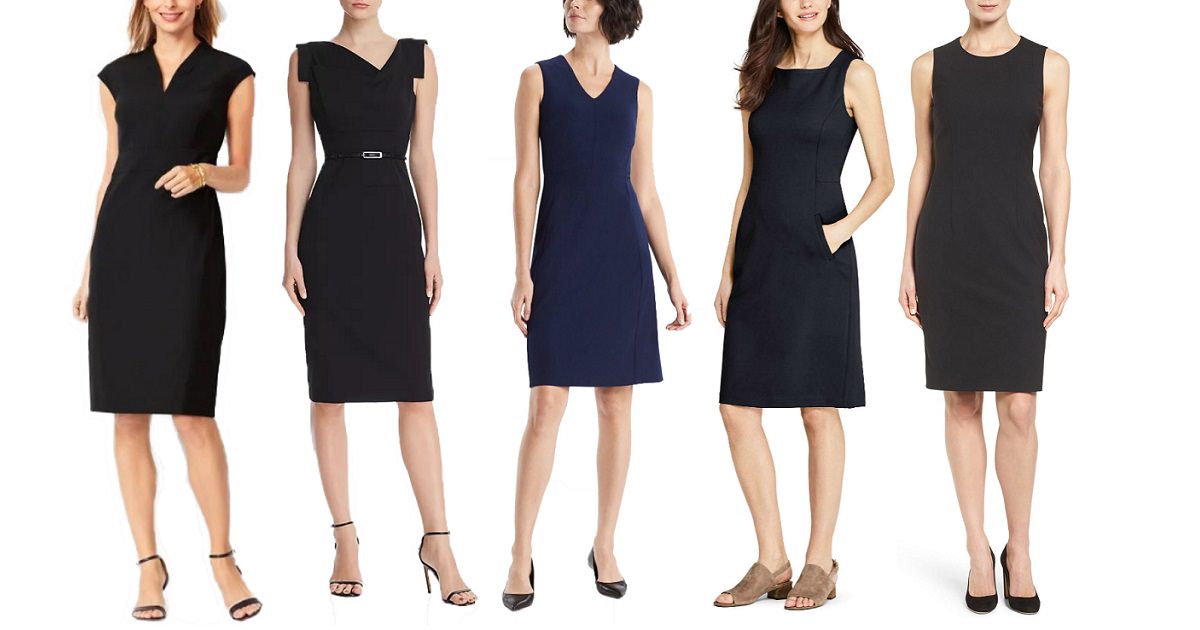 Hall of Famers: one / two / three / four / five
Curious for past roundups of sheath dresses? Here they are from 2016, 2015, 2014, 2013, 2012, and 2011. For other sizing issues you may want to check out our recently updated roundup of bespoke dresses, which you can order fit exactly to your measurements.
Merona ponte dresses are definitely on the more casual side, but if you need to build a wardrobe in a hurry, this is a great, affordable option. It comes in six colors (including two pinks, "wood violet," "sudden sapphire," and "tumble green" — but it also comes in basic black. The dress is $29.99, available in sizes XS-XXL. Ponte Sheath Dress – Merona
I tend to prefer the v-necked sheath dress Tahari offers, but this round-necked version is a great basic — and it's on sale at Bloomingdale's today for $70 in both black and navy, sizes 2-16. Note that it does have an exposed half-zipper in the back. Cali Sheath Dress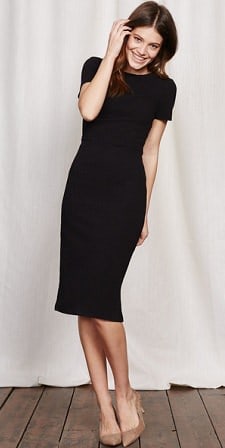 The Aurelia dress from Boden is in our Hall of Fame, but this is my first time noticing the Elsa dress, which Boden pitches as the "cool, sophisticated cousin of the Aurelia dress." I like the capped sleeves, and while a low scoop back can go wrong in a lot of instances, this time I think they got it right. It's machine washable, available in sizes 2-18 (lucky sizes only in stock at the moment) in black and navy in petite, regular, and long sizes for $148 — but try code 5N3R to get 25% off at checkout. Elsa Ottoman Dress
Ooh: this ponte knit sheath dress from Brooks Brothers looks like a great one. I love the notch neck and extended cap sleeves, as well as the decorative topstitching. It's available in regular and petite sizes 0-14 for $198 at Brooks Brothers; it's dry clean only. Ponte Knit Sheath Dress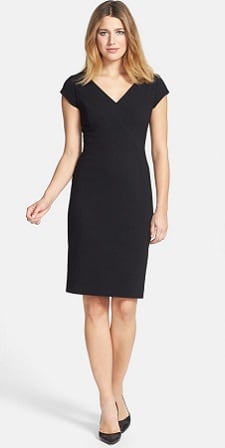 I have this Classiques Entier dress in navy, and it's a great step up from your basic sheath — I like the wide V-neck and the cap sleeves, along with the stretchy but heavy ponte. The downside is that with the full-length zipper along the back, it's difficult to shorten or lengthen the dress — but if that's not your concern, this is a great bet. It's $229, available in sizes 2-16. Ponte Knit V-Neck Sheath Dress
Like this feature? Check out other recent installments!
This post contains affiliate links and Corporette® may earn commissions for purchases made through links in this post. For more details see here. Thank you so much for your support!