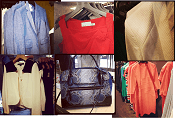 2018 Update: Check out our new and revised guides to Where to Shop for Workwear in NYC!
And now it's time for an occasional feature on the blog: shopping with Kat. For this edition, I ran around SoHo, looking for clothes on the racks that looked like good workwear items. I popped into a number of stores including French Connection, Diane von Furstenberg, Missoni, DKNY, Miu Miu, Ralph Lauren, J.Crew, Intermix, Club Monaco, Bauble Bar, and Hugo Boss — below are some of my favorite pieces from the trek (in order of price, low to high). You can follow my full adventures on Instagram. (This was my first time using Instagram, so please bear with me… all pictures taken by me with my new Samsung Galaxy S4 (which I bought a few weekends ago and love).
J.Crew: The photos don't do justice to the bright blue of this linen blazer from J.Crew — it's fresh and happy, almost a neon. And, in even better news, it's on sale — it was $175 but is now marked down to $130 at J.Crew; it's also available in a flamingo pink and mossy green. (If they had the other colors in stock at the store, I didn't even notice them.) Schoolboy blazer in crosshatch linen
French Connection:  The Ruth jacket doesn't look like much online, but in the store it was great — nice heavy material with a nice drape. It's on sale for $169 at French Connection (final sale only). Piperlime (pictured above) and Bloomingdale's still have the jacket marked full price. Feather Ruth Jacket
Club Monaco: I've recommended the Nora blazer at Club Monaco before — it looks just as nice in person. It's now on sale in blue and orange for $139-169, in stores and online. Nora Jacket
Club Monaco: The Amber sheath dress looks like a great black sheath dress — it has a lovely grosgrain ribbon detail at the waist, and some interesting seaming details on the bust. It's $198 at Club Monaco. Amber Sheath Dress
Karen Millen: There are big sales at Karen Millen right now. The SoHo store had a lot of very cocktail-type dresses, but I think the interesting origami details on this dress would be appropriate for work as well as an evening out. It's a nice high neckline, and the straps are a lovely grosgrain. (It didn't occur to me to check whether there are loops to hold your bra strap in place, alas.)  This Minimal Crepe Shift Dress is still available online, in limited sizes, in both red and black — it was $299 but is now marked to $199. Minimal Crepe Shift Dress
Hugo Boss: This Kaiya dress (which I think was on sale in the store for around $225ish) was absolutely gorgeous — nice heavy material, super flattering stitching. I'm not a huge fan of that orangey red color, but the dress also comes in black. For some reason it's only available online through the Italian site for Hugo Boss, where it is full price at €349.00; I'd suggest calling your local store to see if they have it in stock or can get it for you. Hugo Boss Kaiya Dress
Hugo Boss: This Adiny blazer from Hugo Boss has a lot to love — it's a nice heavy, soft fabric; the jacquard is really lux, and, I think, it's a very office-friendly version of the moto jacket trend happening right now. I would not have looked twice at it online, though — hate the styling. It's $575 at the Hugo Boss store. Hugo Boss Adiny Blazer
Intermix: I had ogled this blazer during our white blazers roundup a week ago, but you couldn't really see any details online. I considered including it anyway since I'm a big fan of rag & bone, but other contenders won out. Having seen it in person, though, it's absolutely gorgeous — very cool contrasting jacquard patterns, and the fabric feels as light as a cotton pique. It's $575 at Intermix. rag & bone 20th Anniversary Capsule Collection EXCLUSIVE Sliver Combo Blazer
Coach: I darted in to the Coach store briefly and immediately became fixated on this gorgeous python satchel. It's $598 at Coach, part of their new "Poppy" line of bags. POPPY EMBOSSED PYTHON LARGE FLAP SATCHEL
Readers, have you had a big shopping expedition lately? Any recent scores?