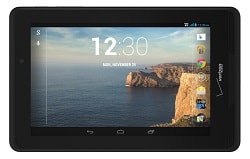 Disclosure: This post is sponsored by Verizon, but written by your usual friendly blogger Kat Griffin. Pictured: The Ellipsis™ 7 Tablet from Verizon (vzw.com/bestdeals), $49-$250 depending on contract (or free with any purchase of a smart phone).

What are you getting for your mother for Mother's Day? If you're a mother yourself, what do you want — and how heavily are you leaving hints for your partner and/or kids? If you have siblings, do you make joint purchases for your mom — and how do you organize them?
I've written before about my amazing mother — but I haven't shared a kind of amusing story about my brother and Mother's Day. See, years ago when I started working and finally had disposable income, I decided that both my mother and grandmother should get flowers on Mother's Day (and all other holidays), if not also a gift. Being the good Big Sis I am, even if I picked out and paid for everything, I always put my brother's name on the card, and we both got credit. But this bugged me:  I didn't want to have to become go-to The Purchaser/Organizer. I was wary, as a woman, of putting myself in that default role where, if I didn't get Mother's Day gifts, no one would do it. 
So… I kept track, both of how much my brother "owed" me, and who had bought what, when. At one point we were up to four figures, but a funny thing happened: I became a mama myself and kind of fell off that cliff of new motherhood, where you barely know what day of the week it is but for childcare arrangements. And the great thing is: my brother totally stepped up, and would send flowers (including for our grandmother, before she passed) and gifts and more, while I was busy, you know, mothering (and blogging, of course). So: I guess my mama raised him right. (And yes, we've stopped the tally.)
This Mother's Day, I've been strangely on the ball, and so we've started the hunt early. We've been eyeing the Ellipsis™ 7 from Verizon — who doesn't need a grab and go tablet?  My mother can store all of her favorite Jack photos on it, and even watch movies — and of course check her favorite blogs (cough, cough) and read her e-books. It's very wallet-friendly, too: $49.99 with a 2-year agreement, or $250 with no contract — and it's totally free with the purchase of any new smartphone (something else we've been meaning to get her!). The product has great reviews, also, with people being impressed with the ease of use and 4G speed (it also offers Wi-Fi® Connectivity).
Readers, what are you getting for your mother for Mother's Day? If you're a mother, what do you want yourself? Does it matter to you who picks out the presents?