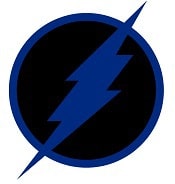 2016 Update: We still stand by this advice on how to wear black and navy togetther; links below have also been updated. You may also want to check out our discussion on what tights to wear with navy skirts!
Can you wear black and navy together?  What about a dark blue pinstriped blazer — how can you mix that with black suiting pieces?  Reader D wonders:
I scored a dark blue (navy ish) pinstripe pant suit, but then realised that pant suits don't really suit me. Which shades of blue go well with a solid black skirt? I'm afraid it might be difficult to mix and match because this is both blue AND pinstriped. Can I also wear it with a solid black dress? I've just tried that combo on in the mirror and am afraid that it might look funny. I'm hoping to use it for interviews and eventually work, in the finance industry.
Great question, reader D! We've talked about how to wear black and navy together before, but not in a long while. (We've also talked about what color tights to wear with a navy skirt, and rounded up some great navy suits for interviewing.)  I'm curious to hear what the readers think, but this has always been my rules of thumb:
All shades of blue go well with black — so long as you don't look like you got dressed in the dark.  This is really the trick — the closer the blue is to black, the more you have to wear it with intention. So how do you wear a dark blue and black — with intention? [Read more…]