2019 Update: Hunting for black cashmere sweaters on sale? You may want to check out our most recent roundup, with tons of classic cashmere sweaters for work under $150.
Sure, we all know what basics professional women are supposed to have in their closets, but if you're buying one for the first time or replacing one you've worn into the ground, it can be a pain to find exactly the right incarnation in stores. In "The Hunt," we search the stores for a basic item that every woman should have.
February can be a great time to buy cashmere on sale. Today I thought I'd see what I could find in the way of simple, classic black cashmere sweaters… Readers, what is your favorite brand for cashmere? Scored any great deals lately?
Before we get to our featured cashmere sweaters for work for today, here are some of the greatest hits from our Workwear Hall of Fame – cashmere sweaters that have been around for years and are loved by all!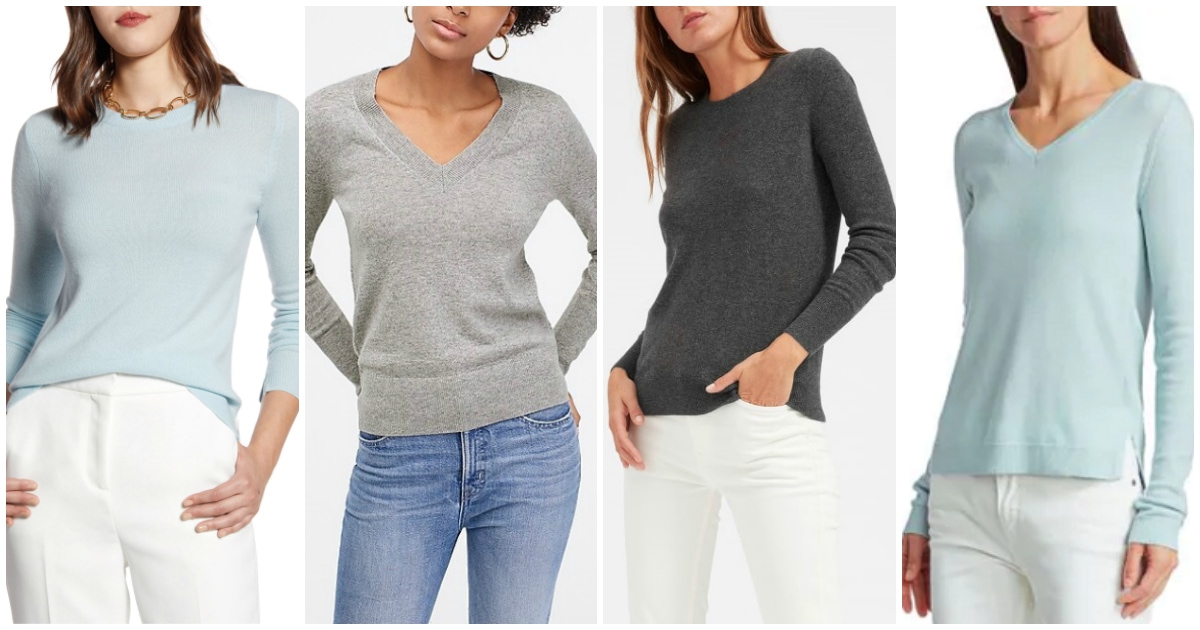 pictured above (2019 update): blue / gray V-neck / gray crew neck / blue
This basic cashmere cardigan always comes in handy, whether it's intentionally part of your outfit or that "extra layer" that you throw on in the winter or summer when it's too cold. This one comes in 8 different colors, including black, amethyst, cobalt, fuchsia, heather grey, red, teal, and "yellow raisin." It was $98, but is now marked to $57.90 at Nordstrom. Only Mine Cashmere Cardigan
This cotton/cashmere sweater has an interesting "silk twill" back, which almost gives it a blousy effect from behind. It was $145, but is now marked to $71.99 at Lacoste (and is available in black, white, purple, red, and pink). Long Sleeve V-Neck Cotton Cashmere Sweater with Silk Twill Back
I like this simple cashmere sweater from Jones New York, with its slightly looser fit than some of the others. It was $139, but is now marked to $79 (and take an additional 25% off at checkout, bringing it down to $59.25). It's available in black, beige, gray, cherry, "ruby wine," and an ivoryish "sugar." Jones New York Cashmere V-Neck Sweater
White + Warren is one of the brands that I think of as doing cashmere really well, and so this steep of a discount is a great thing: it was $210, but now marked to $99. The simple v-neck is available in black, purple, camel, coal heather, cornflower, and "fawn heather" in a variety of limited sizes. Cashmere V Neck
Like this feature? Check out other recent installments!