2018 Update: Check out our latest roundup of classic sheath dresses for work!
Sure, we all know what basics professional women are supposed to have in their closets, but if you're buying one for the first time or replacing one you've worn into the ground, it can be a pain to find exactly the right incarnation in stores. In "The Hunt," we search the stores for a basic item that every woman should have.
A good sheath dress is one of those must-have basics for a working wardrobe.  They can be worn in a multitude of ways — gussied up with a blazer, stylized with a cardigan and a skinny belt, or (depending on whether bare arms are appropriate in your office), worn by themselves with some fun accessories.  They're great for travel, for transitioning from desk to dinner, and always seem to work well for those "I don't quite know what to wear" situations.  A true office-appropriate sheath dress will be bra-friendly, and I generally think of them as having a zipper in the back that comes all the way to the base of your neck (i.e., none of your back is exposed).  Personally, I look for a neckline that is high enough for the office without being too high. (Random Kat story here: I once bought a great wool sheath dress at an outlet mall — it was a well-known brand reduced from something close to $200 down to $9.99.  I wore it four or five times before I figured out what was wrong with it — the crew-cut neckline was too high, and I kind of looked like I was choking in it.  Since that day: I never recommend something with too high of a neckline.) I round up the best dresses in the most classic colors below, but if you're looking for a colored sheath dress, check out the ones I found in teal blue, brown, green, beige, purple or orange, gray tweed, leopard, and navy linen.  Readers, have you gotten a great sheath dress recently? Have you found them as versatile as I have?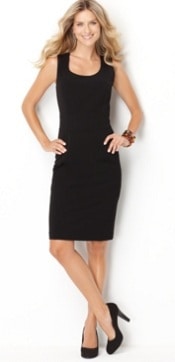 Macy's has a number of sheath dresses in their EDV line, including this simple ponte sheath from Charter Club. I like the scoop neckline, as well as the fact that it's machine washable. Note that reviewers say it runs small, as well as long, so order a size up and possibly prepare to spend another $10 or so on hemming. It's $49.98 at Macy's. Charter Club Dress, Sleeveless Sheath>
This plain v-neck dress from Jones New York has everything (although the back dips a bit lower than I'd like, it still will hide bra straps).  I like the slight A-line to the skirt, as well.  It's $99 at Jones New York. Jones New York Dress Platinum V Neck Suit Dress (Black)
I'm not familiar with the brand Louben, but I'm intrigued that this dress is "designed to travel with ease," allegedly coming out of the suitcase "looking lovely and ready to wear."  Nice!  It's $158 in black at Dillards (sizes 4-16). Louben Sheath Dress
I like the Allura shift dress from J.Crew, available in both Super120s (in black, navy, heather flannel (pictured), and light heather gray) and superfine cotton (in navy, smoky graphite, and beechwood). I particularly like the shirred neckline.  The wool is $178, and the cotton is $158 at JCrew.com.
Like this feature? Check out other recent installments!
(L-#)