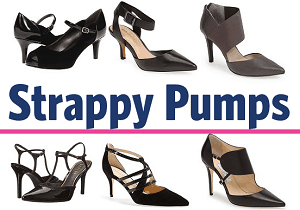 Sure, we all know what basics professional women are supposed to have in their closets, but if you're buying one for the first time or replacing one you've worn into the ground, it can be a pain to find exactly the right incarnation in stores. In "The Hunt," we search the stores for a basic item that every woman should have.
As we approach tights weather, I thought it might be fun to round up some strappy pumps (see also our roundup of t-strap pumps). Although boots and booties are much more acceptable to wear with tights than they used to be (just for kicks take a look at our 2010 poll on peep-toe booties), the most conservative option is still, I think, pumps or flats, whether with straps or without.
So without further ado… readers, what are your favorite shoes to wear with tights?  Have you made any killer purchases recently (or classics that are still available) that go the distance in terms of comfort and style?
This post contains affiliate links and Corporette® may earn commissions for purchases made through links in this post. For more details see here. Thank you so much for your support!
2020 Update: These are some of our most recent favorite strappy pumps…

Psst: here are our favorite tights for work (just updated the post!).
I like the look of these peep toe pumps from Trotters, which I think even identify themselves as a comfort shoe. It's a 2.75″ heel with a .75″ hidden platform, so the shoe only comes out to 2″ total. I've pictured it in black but it also comes in some gorgeous colors, including a dark red suede, gray suede, and a few colors (black, beige, red) in a "patent suede" mini dot leather. The shoe was $109, but is now marked $59-$74 at 6pm (they also have 4.5 stars at Nordstrom, where they're still full price). Trotters Olive
I continue to really like the look of these Olyvia pumps from Sole Society (their Anneke pump is also very popular). I particularly like the wide range of colors and patterns this one comes in, and the fact that it comes in sizes 4-12. The pump is $64.95 at Nordstrom. Sole Society 'Olyvia' Suede Pump
These Lauren Ralph Lauren heels are new, but are starting to get really good reviews — love the mix of patent and suede, and I love the color options (that dark taupe looks like it would be a great nude for someone with darker skin, and the purple is gorgeous). The shoe is $98 at Zappos. LAUREN by Ralph Lauren Salita
Seychelles actually has a number of different shoes that would be great with strappy pumps (and they're one of the brands readers have mentioned in our Guide to Comfortable Heels). I like this d'Orsay pump the best, I suppose, but the Portrait and Marvel pumps are close behind. The Riddle pumps have 3.25″ heels, and are $99 in black and gray at Nordstrom. Seychelles 'Riddle' d'Orsay Pump
Wow — I love the look of these $135 shoes from Ivanka Trump (and the fact that they're also available in purple, squee!). It's a 3″ heel that looks very walkable to me, and I like that they come in sizes 4-12. They're $135 at Nordstrom. Ivanka Trump 'Tellas' Pointy Toe Pump
These Choo pumps look super modern to me, perhaps because they kind of pick up on a number of different trends going on (the wide strap, the partial Orsay, even the buckles going in two directions are very cool). They're $895 at Nordstrom. Jimmy Choo 'Heath' Pointy Toe Leather Pump
Like this feature? Check out other recent installments!
—————
N.B. PLEASE KEEP YOUR COMMENTS ON TOPIC; threadjacks will be deleted at our sole discretion and convenience. These substantive posts are intended to be a source of community comment on a particular topic, which readers can browse through without having to sift out a lot of unrelated comments. And so, although of course I highly value all comments by my readers, I'm going ask you to please respect some boundaries on substantive posts like this one. Thank you for your understanding!