2017 Update: We still think the tweed blazers for women featured here are great for work — but if you're looking for in-stock items, you may want to check out our more recent roundup of the best winter blazers to wear to work.
Sure, we all know what basics professional women are supposed to have in their closets, but if you're buying one for the first time or replacing one you've worn into the ground, it can be a pain to find exactly the right incarnation in stores. In "The Hunt," we search the stores for a basic item that every woman should have.
It's been a while since we last rounded up tweed blazers, so I thought I'd go on a hunt for some on the market right now. Some of my favorites are below — ladies, which are your favorite from the options below? Have you bought any tweed blazers recently, or do you have some in your closet from years past?
Other options in the budget price range, not pictured below: Ann Taylor (three great options in regular, petite, and tall sizes, all $72-90 with code FASHION50), Talbots ($75-$130, regular, petites, woman, woman petites), White House | Black Market ($99), Calvin Klein ($104),  Anne Klein ($139), Limited (three great ones in regular, petite, and tall sizes, all for $168 full price), and J.Crew ($186 with code STYLETREAT).
Here are some plus-size options, not pictured below: here, here, here, here, and here.  Also, I've tried to note in text where there are petite or tall sizes available throughout the piece.
I've been hearing a ton of great reviews for Merona's tailored blazers lately, so this tweed one would be my first stop for a budget pick.  It's $35 full price, but today you can buy 1 and get 1 50% off regular priced slippers, sleepwear, and clothing (plus free shipping on all items).  It's available in sizes 2-18, as well as plus sizes and petites. Merona Tailored Blazer
I saw this in the window of my local Loft store last night (en route to somewhere else) and had to stop and ogle — it looks like a great jacket with nubby texture and military details.  It's $108 full price at Loft, available in regular and petite sizes. Loft Admiral Blazer
I got one of these hacking jackets a few years ago when I worked with Macy's on a sponsored post, and I must say that it's remained one of my favorite blazers. The colors are vibrant (and new ones come out every year!), and it's held up well over the few years I've worn it.  I also like that it comes in regular, petite, and plus sizes. This purple one is $199-$225 at Macy's. Lauren Ralph Lauren Wool Blend Hacking Jacket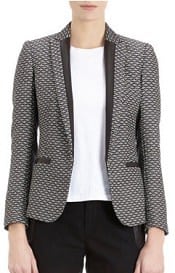 It's a bummer that this one is a final sale, but I like it too much not to include — this Lorimer blazer from Rag & Bone (in a cotton-blend tweed) looks gorgeous.  I like the leather trim on the lapels, and the way the wide weave of the tweed almost looks like a repeating pattern.  It was $595, but is now marked to $359 at Barney's Warehouse. Rag & Bone Lorimer Blazer
This may be one of my most favorite blazers, ever, and that's saying a lot. Looove the texture from the stripes (and the fact that it's got a bit of a metallic sheen to it), as well as the pockets and lapels having stripes in different directions. Love the single button, classic fit. Gorgeous. The blazer is $448 at Neiman Marcus. Nanette Lepore Striped Tweed Fitted Blazer(Here's a great tweed Nanette Lepore blazer on sale for $139 at Nordstrom Rack, btw.)
If you're ready to spend some money but are also willing to do a bit of treasure hunting, Yoox has a million tweed blazers in lucky sizes, some on significant discount. Below are some of my favorites (priced $285-$683).  1 / 2 / 3 / 4
Like this feature? Check out other recent installments!