2019 Update: Looking for winter coats that work as hard as you do? We've updated some picks for you below; you can also see our full roundup of the best winter coats to wear on your commute.
Sure, we all know what basics professional women are supposed to have in their closets, but if you're buying one for the first time or replacing one you've worn into the ground, it can be a pain to find exactly the right incarnation in stores. In "The Hunt," we search the stores for a basic item that every woman should have.
We've talked before about how to buy a great winter coat — but we haven't done a roundup in a while! Which winter coats have been your favorite this year, ladies? Do you vary your coat choices based on your outfit (e.g., wearing a longer coat with a skirt/dress)? Do you buy a new coat each season, or once every few years? How many coats do you keep in rotation at one time — and what do you do with the older ones?
For my own answers, I still love my dark green Cinzia Rocca coat that I got a few years ago — but I also wear my Primaloft coats from Lands' End if I'm running around with the kids (I have a shorter one as well as a longer one), as well as a few wool coats I inherited from my grandmother. I definitely vary my coat based on my outfit — I would never wear a shorter, hip-length coat with a skirt or dress. Just due to closet space limitations, I've kept my coat collection pretty small!
Some Recent Picks for Great Winter Coats (12/2018 Update!)
Before we get to the roundup for today, here are a few general categories to consider for winter coats for work:
Under $150: Lands' End, Uniqlo (lots of great options)
Usual Suspects (great BRANDS to check out):
Pictured below: the Hall of Famers readers swear by: one / two / three / four
Curious for other roundups? Here they are from 2019, 2018, 2016, 2013, and 2009.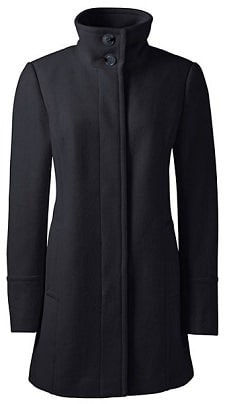 This wool parka from Lands' End is highly rated, available in regular, petite, and tall sizes (and four colors), and generally looks great. I like the princess seams and feminine shaping, the mid thigh length (perfect for pants), and the temperature rating of 0-20 degrees Fahrenheit. For a longer coat better for knee-length skirts and dresses, check out the wool car coat. Wool Parka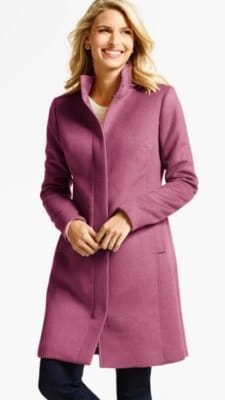 This plush wool coat from Talbots is only available in "vintage raspberry" and "fog blue," but it looks lovely. It's a wool/poly blend, dry clean, is fully lined, and has front welt pockets — and it's only $129. Plush Wool Coat
Lauren Ralph Lauren is, of course, a longtime favorite midlevel choice, and Nordstrom has a ton of great choices right now, albeit in lucky sizes. They're all rated well; this reefer coat has mostly plus (pictured) and petite sizes left. It's made from 60% wool, 20% poly, 10% viscose, 5% nylon, and 5% "other." Pictured: Lauren Ralph Lauren Reefer Coat
Club Monaco has a good sale on sale today so I'll include this lovely plaid coat in the mix — love the oversized windowpane check pattern and the contrast piping trim. It was $495, then was marked to $399; with the "extra 40% off sale" deal it comes down to $239. Nice. Airlia Plaid Coat
I looove a good Fleurette coat, and if you're looking for a "buy once and keep for a thousand years" coat, Fleurette is one of the first brands I'd check out. This is 100% wool from Loro Piana; it offers a fit and flare silhouette and on-seam pockets. Like many Fleurette coats at Nordstrom, this one is on sale for 35% (some are as much as 60%!) — it was $1049 but is now marked to $679. It's available in regular and petite sizes in blanco (pictured) and black. Fleurette Fit & Flare Wool Coat
Of course, sometimes you want to go with a more dramatic jacket, and channel your inner Olivia Pope. Here are a few great options from the hunt:
Row 1: one / two / three / four
Row 2: one / two / three / four
Ladies, which are your favorite coats to wear to work?
Like this feature? Check out other recent installments!