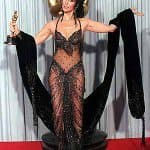 We're not sure why WSJ has this story *now*, given that black tie season is over (isn't it?) but today they have a great article on why businesswomen need to be very, very careful in choosing an evening gown.
It's not just a matter of image; sometimes, there can be real trouble. Lisa Goldstein, an attorney and founder of consulting firm Rainmaker Trainers in Philadelphia, says that during a client dinner with spouses, a head of a law firm was propositioned by her male client and his wife. The client "suggested that they swing together," says Ms. Goldstein, who was informally consulted on how to recover the professional-client relationship. The lawyer felt that her revealing evening dress had set the wrong tone, sending "signals that were misinterpreted," says Ms. Goldstein.
Ye-ow. We've seen some truly bad outfits at various black ties, and can remember more than a few personal gaffes ourselves (after the jump)
We once tried to glam it up by wearing deep, red lipstick to the event. We tried to go for one of the long-lasting lipsticks. This was before the days of L'Oreal's amazing Infallible lipsticks, and whichever brand we were wearing got incredibly cakelike. It also "wore" unevenly, so by the end of the evening only the outer rims of our lips were covered.

Lesson: Never make a dark lipstick an integral part of your look for the evening without testing it with lots of champagne, butter, steak, and random hors d'oeuvres as you'll be eating at the black tie.

We've also had a few cleavage issues…

Lesson: If all you see when you look down is your chest, wear something else — no amount of Hollywood Fashion Tape is going to help you.
Obviously, none of this applies if this is a personal black tie — look as silly or as sexy as you want at a wedding or friend's bash. But if you're associating with business people then you have to navigate the waters properly.