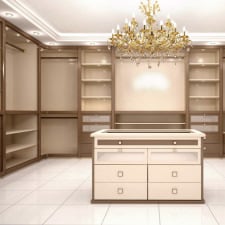 What are the best wardrobe essentials for work? What are the building blocks of a great working wardrobe? We've long noticed, in the course of our regular recommendations for pieces for your working wardrobe, that there are "greatest hits" — dresses and skirts and other basics that are highly rated, reappear year after year, and seem to work for a ton of different sizes and shapes. We've collected some in our Workwear Hall of Fame — but a lot of them appear in our regular Hunt roundups, where we're hunting for a workwear basic in a range of prices. But if you happen to be building a work wardrobe for a new job (or a change of job), these "greatest hits" would be a great place to start building your working wardrobe — because they're wardrobe essentials for work. (Psst: we've also started a series for people who prefer to make many purchases at one store, such as how to build a work wardrobe at Boden.) Stay tuned for our guide to affordable work wardrobe essentials on a budget! Note that this page is a great accompaniment to our work outfit challenge with four weeks of work outfit ideas — we designed it for use with basics like these.
You may also want to check out our monthly round-up of what some of the top things readers bought for work each month!
Finally: pregnant and on the hunt for the best maternity workwear essentials? Check out our blog for working moms, CorporetteMoms, for all the details.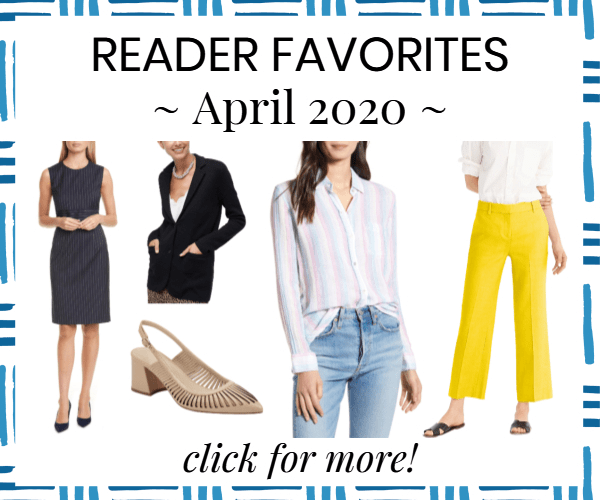 This page was last updated April 2020.
This post contains affiliate links and Corporette® may earn commissions for purchases made through links in this post. For more details see here. Thank you so much for your support!
Workwear Essentials for a Conservative Office
You can wear almost everything on this list to every kind of office — but our specialty here at Corporette has always been in what to wear to conservative, corporate offices like those at law firms, banks, and consulting agencies. If you're moving to a more business casual office, check out our advice on how to adapt a conservative style for a business casual office — and check out our guide to business casual for women.
Wardrobe Essentials for Work: Classic, Comfortable Heels
A comfortable heel is a great way to get a sleek, professional look with a lot of different outfits. Colorwise, you can do a lot with black and gray — but I've always loved a purple pump for versatility, or a nude-for-you heel to make it look like your legs go for miles (with or without pantyhose or tights). Some of the best-selling pumps that are great first bets if you're on the hunt include these classic black heels for business attire: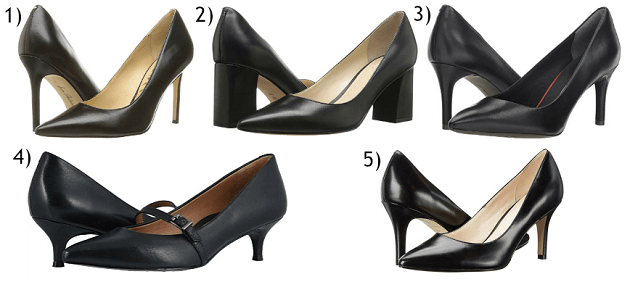 2020 Update: 1) Sam Edelman 2) Mark Fisher LTD 3) Rockport 4) Vionic 5) Cole Haan
Stylish "Comfort Heels" For Work

One of our most popular pages has long been our Guide to Comfortable Heels — and while we often round up popular, highly-rated heels, we thought we'd feature some of the popular heels that are especially known for comfort. These can be great if you're just getting used to heels, you need to be on your feet for a networking event or presentation, or you've just got fussy feet.
Pictured, top row ($99-$550): one / two / three
Pictured, bottom row ($35-$99): four / five / six
Comfortable Flats for Work
Comfortable ballet flats are a must if you're on your feet a lot, but pointy toed flats are sleeker and easier to pair with skirts. Meanwhile, loafers and oxfords have come a long way, as well. Below are some of our favorites from our last roundup of comfortable flats for summer…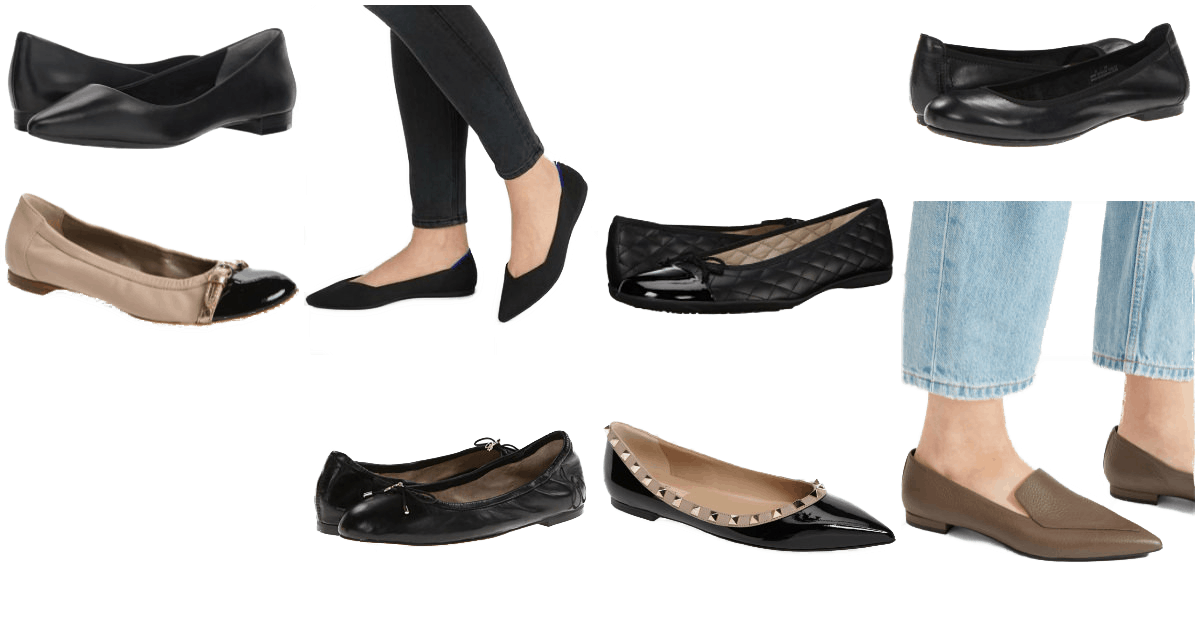 row 1: pointed toe / round toe
row 2: beige / black (on model) / quilted
row 3: bow / studs / brown (on model)
Stylish Sheath Dresses for Work
A sheath dress is a must for the conservative office — it's a great structured, tailored piece that you can dress up or down with a blazer. (We haven't done a roundup of fit & flare dresses for a while, but when we do we'll update this page.)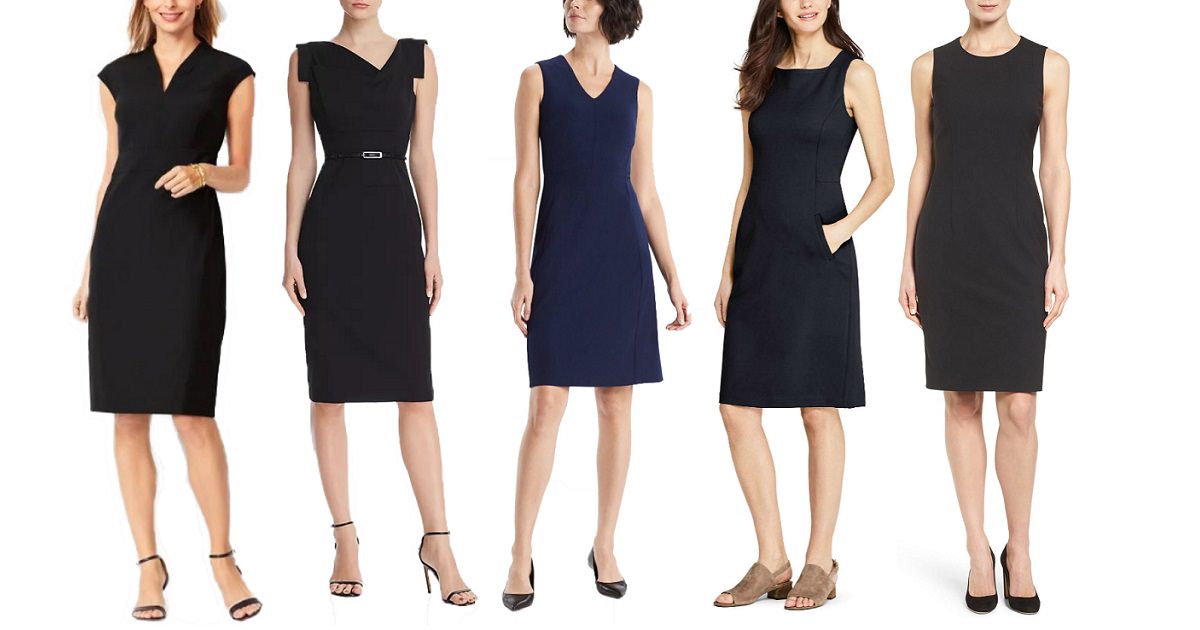 Hall of Famers: one / two / three / four / five
Great Pencil Skirts for Work
Pencil skirts are a GREAT wardrobe basic — they make a great structured base for pairing with everything from button-front blouses to elevated tees to blazer/cardigan/jardigan looks. Some favorite pencil skirts for work: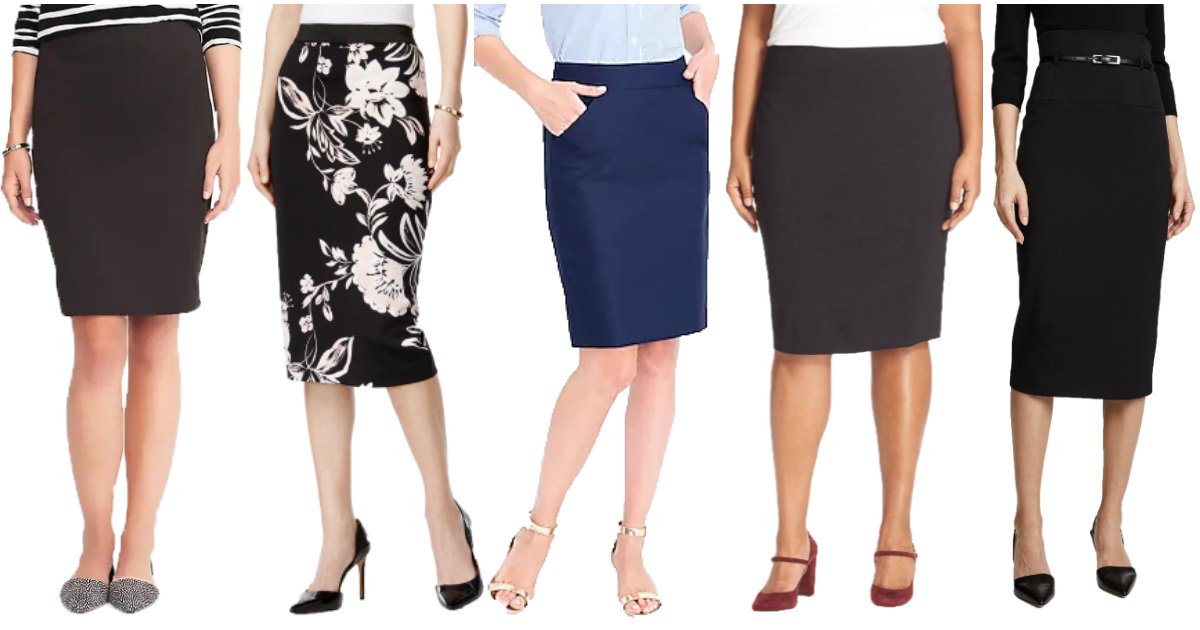 Pictured above: black / floral / navy / plus / high-waisted
The Best Pants for Work
There are a TON of great options for pants for work right now, with lots under $100 and almost everything being machine washable. (Check out our tips here on HOW to wash your washable pants to help with durability and help you avoid ironing…) There are stretchy options to keep you comfortable all day long (like the "comfortable magic pants" the readers love!) and more substantial, stiffer options that will look crisp all day and hold you in a bit more (a bit like this one). (If you really like washable clothes, check our roundup of the best brands for washable workwear over at CorporetteMoms.) Below, some of our favorites from our roundup of the best pants for work: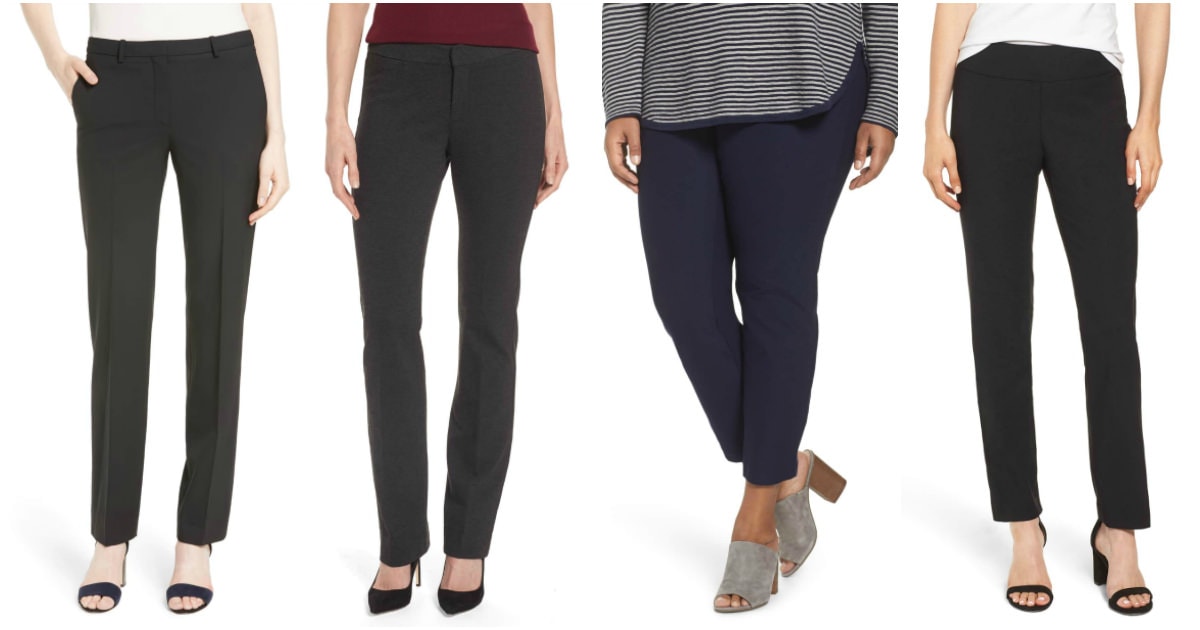 Pictured above: one / two / three / four
The Best Wrap Dresses for the Office
Wrap dresses are a great option to wear to work while losing weight, because they always fit — some new moms also think wrap dresses make the best clothes for pumping (although opinions vary widely on that). If you're not pumping and wondering what to wear beneath a wrap dress, check out this post. Some classic options for wrap dresses, below: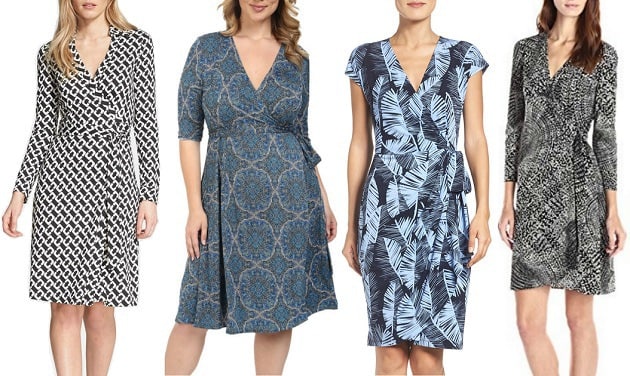 Pictured above: one / two / three / four
Crisp Button-Front Blouses for Work
A crisp women's dress shirt is a great layering piece for beneath a blazer, a sweater, or more. If you find that button downs don't work with your bust, but still want to wear them, do check out our roundup of boutique shops specializing in busty blouses — you can also check out our advice on how to wear a button-front to work. If you prefer a silk button-front, scroll down…

Pictured above: pink / stripey / blue / white / blush
Silk Button-Front Blouses
Another stylish option: the silk button-front. These can be easier for layering beneath a suit, cardigan, or more — but be warned they can be higher maintenance.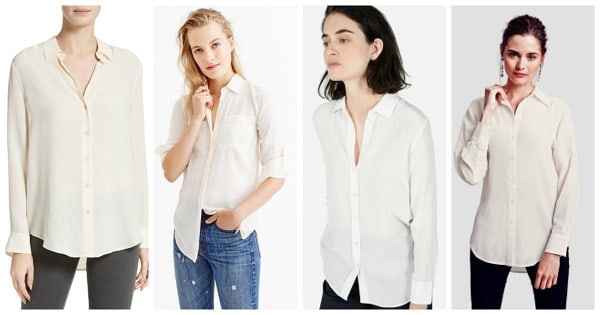 Pictured above, some of our favorite silk button-front blouses, $88-$214: one / two / three / (four sold out; similar).
Sleeveless Tops for Work
Sleeveless tops, shells and blouses can be great alternatives to sleeved blouses and tees, particularly if you want a layered look with clean lines. These are some of our favorites — you can see our whole roundup of sleeveless tops.

Pictured above, $15-$178: white / pink / white / navy / white / purple
Camisoles for Work
Of course, if you're wearing button-front shirts, you may want to look into camisoles for work — they can be great for raising the neckline, making sure no skin is showing through gaps in buttons, and can be a generally great layering piece. (Also check out our roundup of the best demi-camisoles for work — great if you don't like a ton of unnecessary fabric around your midsection.) Remember: if you're hoping it will raise the neckline of what you're wearing, you're looking for something that doesn't look like lingerie — the less lace, mesh, and other details, the better.
Pictured above: one / two / three / four
T-Shirts for Work
T-shirts are great in summer, of course, but they're also great for layering under cardigans and blazers as seasons change. Some of our favorite tees for layering include: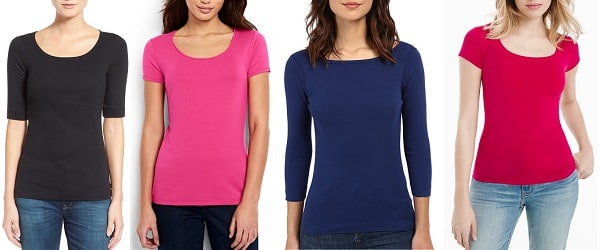 Above: black / pink / blue / red.
Professional Tote Bags
A work tote is a MUST if you're interviewing — you need something big enough to hold a folder with your resume, light enough that you don't mind lugging it around, and durable enough that you won't cry if it gets rained on. (Note that we've also talked about the best backpacks for your commute, as well as the most stylish laptop totes and sleeves.) Some of the best work bags of all time are pictured below, ranging from $168-$298: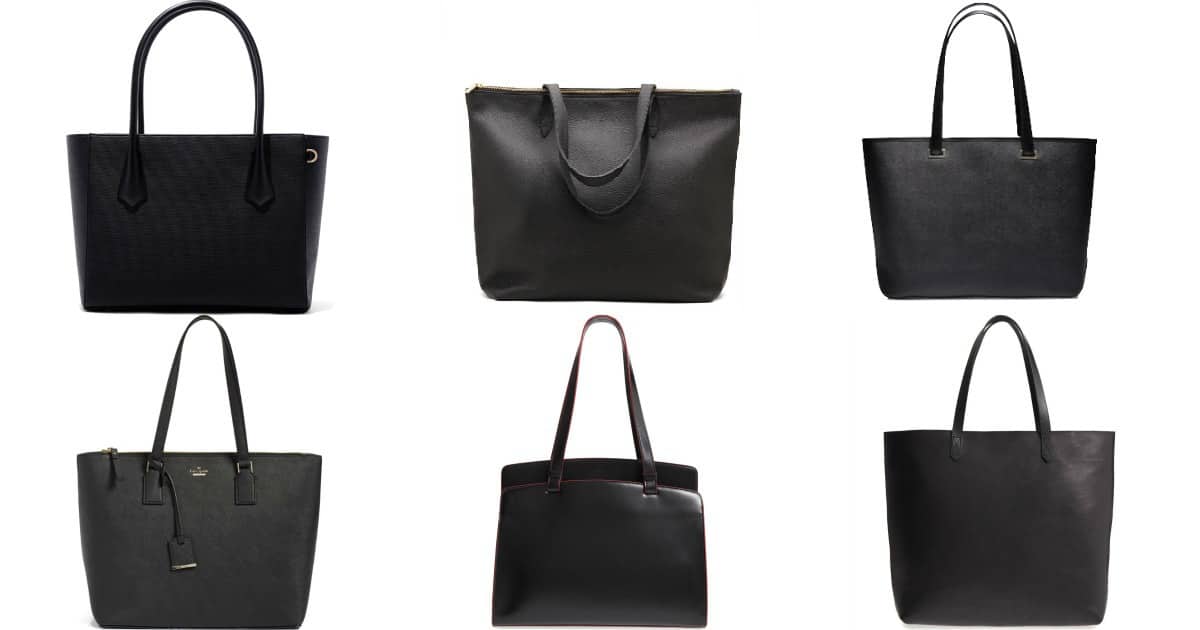 Pictured above, Row 1: one / two/ three // Row 2: four / five / six
Looking for the best laptop bags for work? These are some of our Hall of Famer styles: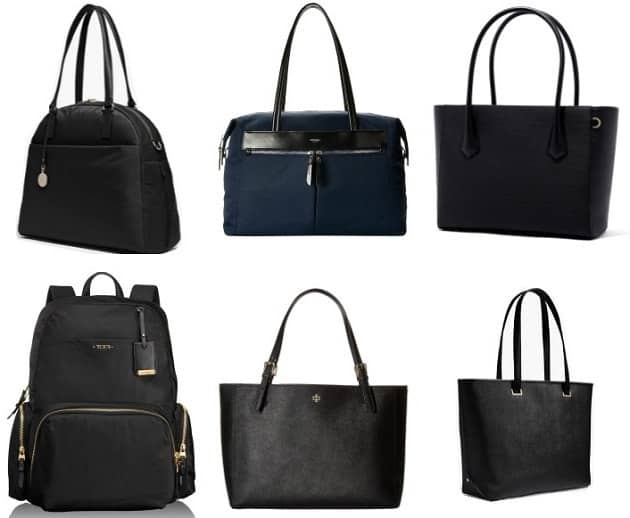 Pictured above, Row A: one / two / three; Row B: one / two / three
Backpacks for work are getting more and more popular, as well, so you may want to check out our recent roundup of the best stylish backpacks for work (including which laptop backpacks are polished enough for work)!
Seasonal Wardrobe Essentials For Work: Summer Work Clothes
Nude-For-You Pumps
Whether your office allows bare legs in summer, or you just prefer the bare look with great pantyhose, matching the tone of your shoe to the tone of your legs is one way to make your legs look like they go for miles. Some of our latest favorite skin-tone pumps for work include:
Pictured above, top row: one / two / three / four // bottom row: one / two / three / four
Lightweight Summer Blazers
If summer recruiting is in your life at all (whether as a summer associate, an intern, or as an interviewer!), the summer blazer can be an easy way to look pulled together, FAST. (We've also rounded up our favorite stylish summer dress pants for women!) Some of our favorite lightweight blazers for summer include these best-sellers…
Pictured: Navy blazer / white blazer / pink blazer / black blazer / navy blazer
Finally, it should be noted that a great layering piece you may not even KNOW about for hot summer months is the demi-camisole. This can be a great way to raise the neckline of anything you're wearing without adding a ton of fabric around your middle. (Most people still wear a regular bra beneath these — know your office if you only wear one of these.)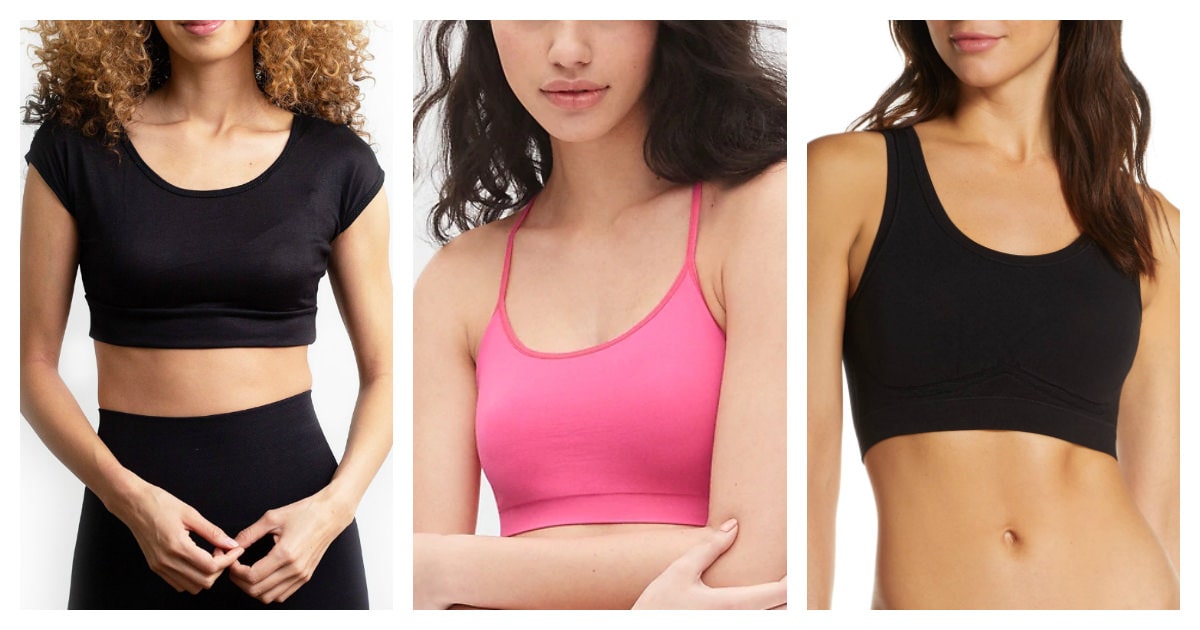 Pictured above: one / two / three
Cold Weather Basics for Work
Cold weather is another beast — we've also discussed how to buy a great winter coat, as well as how to be graceful in a New York winter. Stay tuned for updates to our hunt for flannel pants, also!
The Best Sweater Jackets and Jardigans For Work
In recent years, the jardigan, blazer/cardigan hybrid, or sweater jacket has become hugely popular — so we've started going on a hunt for the best sweater jackets for the office!
gray / gray / green / navy with pockets / cropped navy


Cardigans Every Woman Needs for Work
So many women love cardigans for work — they're more comfortable and warmer than a blazer, and can be a much more laid back, casual look. We've broken down the different styles of cardigans and how we wear them to work — these are some of our favorites through the years. You may also want to check out our roundup of affordable blazers under $50 as many are knit and comfy. (Not pictured: this reader favorite cardigan for $27-$46.) Whether you need a red cardigan or not, many of the styles featured in our roundup of red cardigan sweaters are classic styles.

Pictured: twinset / sweater blazer / boyfriend cardigan / long cardigan / fitted cardigan
Affordable Cashmere for Work
Cashmere runs the gamut from affordable to expensive — and we've talked about the best cashmere a ton over the years. Below are some of the best-selling, great cashmere sweaters for work that we've seen for years: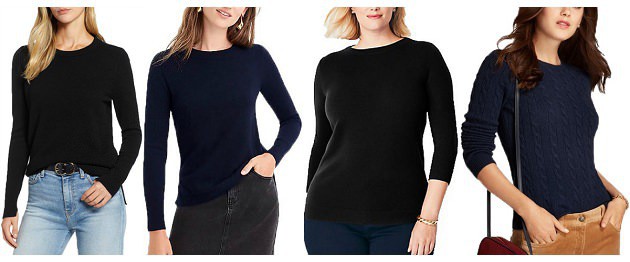 Above: one / two / three / four
Tights for Work
Tights for work are a must — and whether you want opacity, warmth, durabilty, or more, we did a major roundup. Below are some of the best-selling reader favorites. Note that we've also talked about what color tights to wear with a navy suit, as well as when it's time to stop wearing tights (seasonally). You can also check out the Corporette Guide to Pantyhose or our 2017 discussion on the best lingerie for office looks.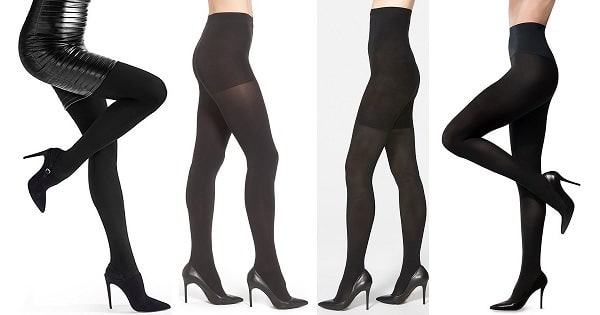 Pictured: one / two / three / four
Strappy Pumps for the Office
I'm always a fan of strappy pumps, but I especially think they're the best work shoe to wear with tights — these are some of the best-selling, classic versions of strappy pumps: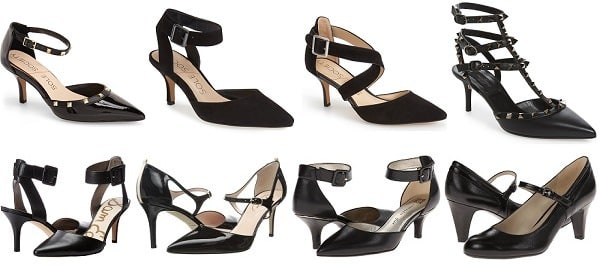 Row 1: one / two / three / four
Row 2: five / six / seven / eight
Best Knee-High Boots for Commuting
Pictured above: one / two / three
Winter Coats To Wear to Work
Winter coats are a must if you live in a cold climate — the right topper will not only keep you warm but also stylish. Some reader favorites are pictured below, but note that we've also discussed in general how to buy a great winter coat.
Pictured below: the Hall of Famers readers swear by: one / two / three / four
Waterproof, Weatherproof Shoes for Work
If your commute involves puddles, slush, dirt, or more, a great waterproof, weatherproof shoe is essential! Some favorite options over the years include:
Best-sellers, above: one / two / three / four / five
Long Underwear For the Win
As we noted in our last post on warm women's dress pants for the office, silk long johns (aka long underwear, aka silk leggings) can be lifesavers under pants in most blustry days of winter. The best ones block the wind, keeping you nice and toasty — but don't add a ton of heat once you get inside. They're also great if you're wondering what to wear beneath unlined suit pants…
Pictured above, $9-$145: one / two / three / four
The Corporette® Guide to Suits
Whether you need a suit for an interview, for courtroom attire, or you just wear suits often for work, we've covered them all. Do check out our Guide to Interview Suits for a lot of basic guidelines on suits; we've also recently done a big overview on brands of suits for women (for regular sizes, plus sizes, tall sizes, petite sizes, and more), as well as discussed the best business suits to wear while you're expecting over at CorporetteMoms.
Affordable Suits for Women
All of the suits in this tier are generally under $250 for two pieces. Note that the two big risks with a budget option will be frumpiness on one end — and "sexy secretary"/ formality problems on the other. Try to look for a material that drapes well, doesn't wrinkle, isn't too seasonal (such as a cotton suit — a tropical wool or triacetate will go farther) — and be wary of trendy cuts like collarless jackets, huge slits in your skirt, cropped pants, and more.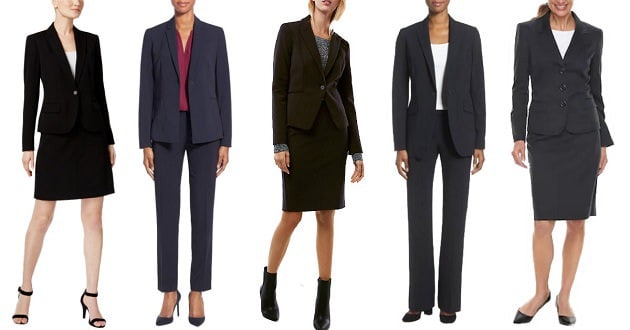 Pictured above: skirt suit / pants suit / skirt suit / pants suit / skirt suit
Mid-Range Suits for Women
These suits are reliably under $500 for two pieces — but they're going to be a bit higher quality than more affordable suiting options in the first tier.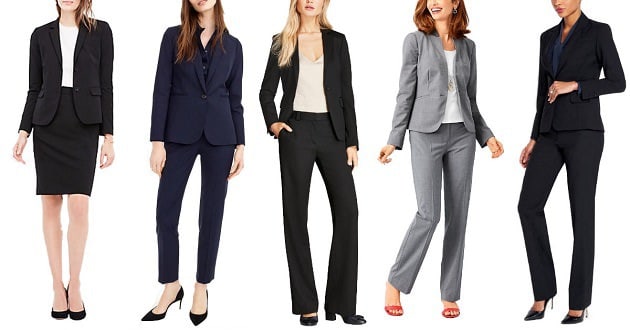 Pictured: skirt / navy / black / gray / navy
Investment Suits for Women
I also call this category "fancy affordable" — they're expensive, but generally worth it if you wear a suit a lot. For many women this is going to be the first "splurge" suit — two pieces will cost you more than $500, but less than $1000.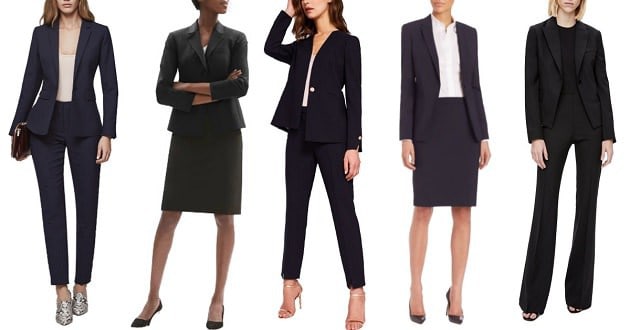 Pictured above: pant / skirt / pant / skirt / pant
Designer Suits for Women

Pictured: Dolce / Max Mara / Burberry / Akris / Escada
Weekend Wear (or for your Casual Office)
Best-Selling Denim
Every woman needs a good pair of jeans — even if you only get to wear them on the weekends. In our last round-up of the best jeans for work, these were the favorites, ranging from $25-$235:
Below: 1) Paige 2) Madewell 3) Topshop 4) Wit & Wisdom 5) Levi's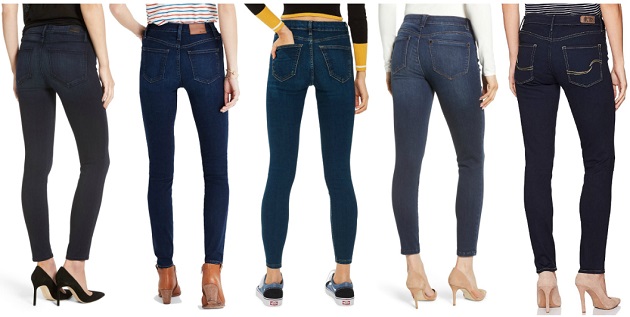 Pictured illustration: Deposit Photos / © urfingus.