While our main focus here at Corporette® tends to be conservative business attire, we've offered a ton of advice on business casual for women over the years, so I thought we thought we'd round it up in one handy place.
Whether you're transitioning from a conservative office to a casual office, or just looking for great advice on business casual for women, we've got you covered. (We keep this page updated really regularly, also!)
Table of Contents
This post may contain affiliate links and Corporette® may earn commissions for purchases made through links in this post. As an Amazon Associate, I earn from qualifying purchases.
Try to strike a good balance between structured and unstructured looks
As we advised one young woman seeking advice on what to wear to work in Silicon Valley, one way to get a polished business casual look is to combine structured looks like blazers with more casual, unstructured looks like jeans or shift dresses. (These can be the most difficult "business casual" looks to get right, IMHO, because some people are dressing very casually and some people are dressing very formally).
Don't worry too much about dressing "too well for business casual."
If you're worried about how to do business casual without being overdressed, "dressing too well" for work, or how to dress for work without looking like you think that you're in charge, we've addressed questions about all of that over the years… the TL;DR from both me and the readers is: don't worry about it!!
If you're more comfortable in casual clothes like jeans — and want to dress it up — find things like comfortable sweater blazers to add to your stylish, professional business casual look.
How to Dress with Polish in a Business Casual Office
On the flip side, though, you have people whose style is inherently more casual. Maybe you want to dress with a bit more polish for a promotion, or maybe you're trying to figure out how to make your casual wardrobe more "business casual" without spending a ton of money.
The best advice we have is to focus on adding structure such as a blazer, a great pair of heels or a great pair of flats, or even a fitted top — and then mixing those structured pieces with pieces that have a more casual, unstructured vibe, such as denim, midi skirts, even jumpsuits.
Another easy way to add more polish is to focus on your hair — we've collected some extremely easy office updos that anyone can do.
One more note if you're trying to raise your business casual game: wear a wristwatch. It communicates responsibility and attention to time — both great qualities to emphasize without words. You may also want to check out our post on how to show authority without wearing a suit.
Finally: Actions speak louder than outfits.
Remember that professionalism comes down to how you act much more so than how you dress.
Still, it can't hurt to err on the more conservative side for the first week at work (or three), and start experimenting after that.
---
Cleavage-baring tops/dresses, or anything else that exposes a lot of skin: a strapless top, a top with cutouts, a short skirt with bare legs, short shorts/a romper with short shorts, a low back or a big cutout on the back.
Be wary of any "workwear" requiring a new bra.
To be safe, remember the old mirror trick for double-checking your outfit — and if you're wondering "how short is too short," note that most readers thought C was the perfect length for work: within an inch of your knee.
In more casual offices you may be able to go as high up as E with dark tights, but I'd avoid the mid-thigh F unless you know your office very well.
Anything that makes a distracting sound — clanking bangles, shoes (particularly sandals) that make a slap-slap-slap sound, a pair of leather or corduroy pants that make a ZIPZIP sound when you walk, etc.
Anything that you can't move in easily. Leave the limo shoes at home and get a pair of heels you can walk a few blocks in comfortably.
(If you're new to heels or refreshing your acquaintance, check out our tips on walking in heels — and check out recently updated Guide to Comfortable Heels to see the best brands and styles we recommend.)
Of course, it's also possible to look professional in flats all the time.
Anything costume-y — from time-to-time readers have wondered about vintage garb, all-pink attire, and other things — while these can be fine in moderation, a good rule of thumb is that if you look like an extra in a theatrical production, it's a bad outfit for work.
Anything where there's an active debate over what category the item falls into — if you have to ask, "are these pants or leggings," or "is this a tunic or a dress," then don't wear it.
Even sleeveless dresses or bare legs may be an issue in some workplaces — so know your office well before you start deviating.
---
They wear a "third item."
Your third item could be a blazer, cardigan, or statement necklace or other accessory that features prominently, like a scarf, a belt on top of a cardigan or blazer, etc.
They wear clothes that fit properly.
Nothing should be too big (watch for hems that drag on the floor ) or too small (watch for shirts that gape across the front, pants or skirts that fit so tightly across your hips that they "smile," and so forth. This may necessitate a visit to a tailor and/or figuring out the best brands for your body type.
If you sometimes wear heels and sometimes wear flats, you may want to have your pants hemmed for different lengths — or find a pair of clunky and comfortable commuting shoes that are comfortable enough to wear on your commute, but maintain the same heel height (and hem) as sleeker heels.
They've paid attention to their undergarments.
We've written a lot about proper bra care, as well as our favorite underwear and shapers.
If you're very curvy you may want to check out our style advice for busty women; for other body-type issues that may be relevant, check out how to shop if your top and bottom are different sizes, as well as the brands are best for your body type.
They wear color with intention to work.
I'm a big proponent of the old idea that you wear "color with color, and black with black." I almost never wear a pair of black pants with a blue sweater without adding, say, a green necklace or a purple belt (so there are at least two colors in the mix).
To get the most out of a minimal wardrobe, create a capsule wardrobe for work by choosing one base color and two accent colors.
Other views on color that may make sense to you: some people prefer to wear black with a bit of gray, while others prefer to wear black with a repeating accent color.
For advanced fashionista fun: try mixing patterns for a sophisticated feel, wearing a monotone look with different textures, or even wearing an unexpected combination, like black and navy.
---
Special Situations: When Business Casual May Be More Casual-Casual
Outfit Formulas for Business Casual Work Outfits
There are a few classic outfit formulas that work for a business casual environment — here are the ones that come to mind immediately:
"Column of color" — it's always a classic way to look polished even if you're doing it with a jean jacket as your third piece. Example: black tee + black trousers + jean jacket + flats.
"Shades of a color" — here your third piece is a cardigan, jacket, or other shirt that is a shade lighter or darker than your base shirt color. Example: light blue T-shirt + dark blue cardigan + trousers.
Jeans + structure — If jeans are acceptable at your office (know your office!! I'd heavily lean toward dark rinse denim if it is), a way to make it look more polished is to go with much more structured pieces for the rest of your outfit. Example: jeans + blazer + crisp white blouse + pointy-toed flats or heels.
Monotone — You most often see this with black, although many bloggers are now doing beige, but it can be a really powerful look with something like gray or, if you're daring, red. Example: gray sweater + gray trousers + silver necklace.
"Top top bottom" — Here your top two pieces match exactly, and your bottom is a totally different color. Light blue cardigan + matching shell + black pants. (There are more modern versions of this with longer / duster cardigans, cropped shells, etc. — know your office before you wear any of those to work!)
Business Casual Essentials for Women
We keep a general resource updated with wardrobe essentials for work (as well as for plus-size essentials for work and maternity essentials for work!) — but some of the business casual essentials for women include easy-care options and great separates like these…
The Best Dress Pants for Work
Dress pants like these are appropriate for every office! If they feel a bit too dressed up for work, try them with a work sneaker, an untucked blouse, or with a drapey, unstructured piece like an oversized blazer.
If you're curious about the best plus-size pants for work or where to find pants if you're curvy, we've done posts on those as well!
Comfortable Pull-On Pants for Work
There are a ton of great options for pull-on pants these days!
Popover Blouses for Work
Popover blouses are a particular favorite of readers for business casual outfits because there is less concern about fit, and most of them are easy care!
The Best Women's T-Shirts for Layering at the Office
Great Short-Sleeve Sweaters for the Office
Great Blazers to Wear as Separates
A blazer is a classic third piece — it adds polish and structure, and really does not need to be that fussy. Our favorites are all pretty affordable!
Stylish Sweater Blazers for the Office
These are cozy and comfortable — but also add a layer of polish and structure.
Chanel-Like Jackets for Work
Chanel-like jackets have always been a classic (hello, Chanel), but they work really well with a number of trends going on right now such as wide leg pants and even fit and flare dresses. Some of our latest favorites are these:
Some of our latest favorite Chanel-style jackets for work in 2023 include these, but in general check brands like Chanel, St. John, IRO, L'Agence, and Sandro.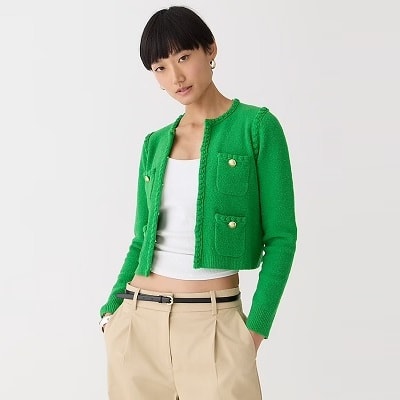 Comfortable Flats for Work
Some of the reader favorite flats for work include these options:
Comfortable Heels for Business Casual Offices
Obviously you don't need to wear heels for a polished look — but they work just as well with business casual outfits as they do with more conservative business outfits!
Seasonal Clothing Essentials for Business Casual Offices
Business Casual Clothes for Winter
Warm Winter Dress Pants
Weatherproof Shoes for Commutes to Your Business Casual Office
Where to Find Tweed Blazers to Wear as Separates
Business Casual Clothes for Summer
Lightweight Business Casual Pants
Lightweight Blazers to Wear as Separates
Hunting for lightweight blazers in linen and other fabrics? As of 2023, J.Crew's Parke blazer is available in linen, as is this super affordable Quince blazer. Along related lines (all machine washable!), check out Uniqlo's Airsense jacket (lightweight and stretchy), Madewell's Drapeweave line (lightweight and drapey) and Brooks Brothers' Soft Icons line (lightweight and drapey).
Lightweight Outerwear for Business Casual Outfits
Hunting for a lightweight jacket? Classics include the designer trench ($$$$), as well as this affordable reader favorite rain coat, this classic packable raincoat, and this long cardigan for warmer days! Know your office before wearing a jean jacket with your outfit, but if you're on the hunt, this one is a bestseller every year. Check out some of our latest, trendy favorites for 2023 are below!