This post was last updated in January 2023.
We've had numerous discussions on this blog about what to wear beneath a suit jacket or blazer. The general consensus is that 1) a well-made, opaque t-shirt in a high-quality material can be a great layering piece, 2) that a no-button blouse (popover blouse) can be a flattering, forgiving option (particularly for women who tend to have problems with gaping blouses with buttons), 3) that button front dress shirts can be a no-brainer option if you really want to stay close to convention, and 4) sleeveless tops like blouses and shells can also work, with certain caveats.
(Note that although it's really common on television to see camisoles layered beneath suits, this isn't the best because if you take your suit jacket off, a camisole isn't usually work-appropriate attire. Furthermore, your dry cleaning costs will be through the roof, and you may be tempted to dryclean the pieces separately, which is bad for the long-term care and feeding of your suit — you want all of the pieces to wear and weather evenly. This isn't to say camisoles don't have their uses — here's our last roundup of the best camisoles for layering.)
Let's go into each suggested top to wear under suits a bit more below…
This post contains affiliate links and Corporette® may earn commissions for purchases made through links in this post. For more details see here. Thank you so much for your support!
We are a participant in the Amazon Services LLC Associates Program, an affiliate advertising program designed to provide a means for us to earn fees by linking to Amazon.com and affiliated sites.
---
1. T-Shirts for Work
Stylish, Simple T-Shirts to Wear Beneath Suits
T-shirts are great in summer, of course, but they're also great for layering under cardigans and blazers as seasons change.
Some of the best tees for layering, in our opinion, include some of the ones pictured below — you may also want to check out our latest discussion on opaque white t-shirts for work.

Above, the best women's t-shirts for layering at the office as of 2022: elbow scoop / v-neck / scoop / long-sleeve / elbow (not pictured but also also)
In general, if you can wear a particular t-shirt with workout pants, it should not be worn to the office. As noted above, t-shirts with sleeves are preferable under suits (versus tank tops or shells) because they a) allow you to take off your suit jacket, even in the most conservative of offices, and b) help you increase the number of times your suit can go without being dry cleaned. They're also easier to throw in your regular laundry versus a blouse that needs special care.
For my $.02, they can be an appropriate choice for interviews and big meetings (court appearances, etc) but note that not everyone feels this way.
If you're wearing a simple t-shirt, be careful with your underpinnings — your bra should not show through the shirt at all, either in terms of the pattern on the bra or the texture of the bra (such as lace). I'm a big fan of "t-shirt bras" for most office wear!
Hunting for opaque white t-shirts for work? As of 2023, we'd suggest checking the double layer lines from Boden, Express, and Hobbs, as well as great sources for basic Pima cotton such as LL Bean, Uniqlo, Everlane, and Talbots. (This $268 tee also gets great reviews for opacity, and Elizabeth swears by this tee under $30!)
As of 2023, the best spots to check for nude-for-you undergarments are Old Navy, Gap, Naja, or Nubian Skin for tons of options.
Pictured above, some of the best plus-size tees for work: one / two / three / four / five (also this)
Fancier Tees For Work
In an ideal world, the t-shirt would be a bit fancy — perhaps it's made of a stretchy silk jersey (or even a silk knit), perhaps it has a button at the base of your neck, perhaps it has an interesting, blouse-like pattern.
As of 2023, some of our favorite fancier tees for under suits include these: one / two / three / four (also this and this). In general, keep an eye out with brands like Boden, CeCe, and Tuckernuck, as well as the smaller workwear designers like the brands pictured above.
In general, you may want to avoid shirts with rhinestones or beading — not only are they unacceptable for most conservative offices, but the weight of the beads or stones invariably makes the shirts heavy, affects the way they hang (watch out for scoopnecks with beading!), and makes laundering difficult. In addition to the brands noted above, keep an eye out when shopping in person at various workwear stores; for some reason these fancier tees don't always hit the websites.
(You can get any color of "fancy t-shirt," but note that if you get them in white or pastel they can be a great way to freshen up your work wardrobe for spring, whereas a jewel tone can be great for fall.
(I'm a fan of black, navy and gray for all seasons, but that's me.)
Sweater Tees for Work
These often fix a variety of issues you may have with regular tees or blouses: they don't gape, they're opaque, they're often easy to care for (or at least don't require ironing), and if they're sleeved you don't need to worry about the "is sleeveless ok" question.
Some of our favorite short-sleeve sweaters for 2023 include Quince ($45!), Ann Taylor, J.Crew,* and this Amazon bestseller. (* – Plus sizes too!) If you're hunting for something fancier, check out The Reset – they offer a knit tee as well as two knit short-sleeved pullovers. (Try code CORPORETTE10 for 10% off.) As of March 2023, Nordstrom and Anthropologie both have a huge selection of sweater tees.
---
2. Popover Blouses for Work: A Happy Medium
Some blouses are cut like t-shirts in that they have no buttons, pull over the head, have no gaping problems and are generally more comfortable.
As of 2022, some reader favorites for popover blouses include 1) Ann Taylor, 2) Vince Camuto 3) CeCe, 4) J.Crew; not pictured, but keep an eye out at Talbots and J.Crew Factory also. Other bestsellers include Amazon sellers CEASIKARY and roswear.
They often demand higher care than your basic jersey t-shirts, but that doesn't mean you have to get a $300 silk blouse — you can get popover blouses in a ton of price ranges, particularly in stores like Ann Taylor, Loft, J.Crew, J.Crew Factory, Banana Republic, Banana Republic Factory (heck, even Old Navy) you might find a shirt that has a good feel to it but can be washed on the delicates cycle or merely laid flat to dry.
Note that these can also be a seasonal item, and a great way to freshen up your wardrobe each season. Check out this post for a more recent roundup of white popover blouses and blouses cut like t-shirts; you may also want to check out some of our recent recommendations for popover blouses.
---
3. Button-Front Blouses: The Classic
Button front blouses are a classic for a reason — they're a conservative but stylish and chic look.
Of course, not everyone actually likes them — they can be hard to care for, and fit issues can abound. (If you're stuck out and about and notice your blouse is gaping, check out this old post on DIY options for gaping blouses.)
If you find that button downs don't work with your bust, but still want to wear them, do check out our roundup of boutique shops specializing in busty blouses — you can also check out our advice on how to wear a button-front to work.
Crisp Button-Front Blouses for Work
A crisp dress shirt is a great layering piece for beneath a blazer, a sweater, or more. If you prefer a silk button-front, scroll down…
Pictured above, the best women's collared blouses as of 2023: one / two* / three* / four / five (* = available in plus sizes; see more in our roundup of the best plus-size workwear blouses — also check out our DIY options for gaping blouses)
Silk Button-Front Blouses
Another stylish option: the silk button-front. These can be easier for layering beneath a suit, cardigan, or more — but be warned they can be higher maintenance.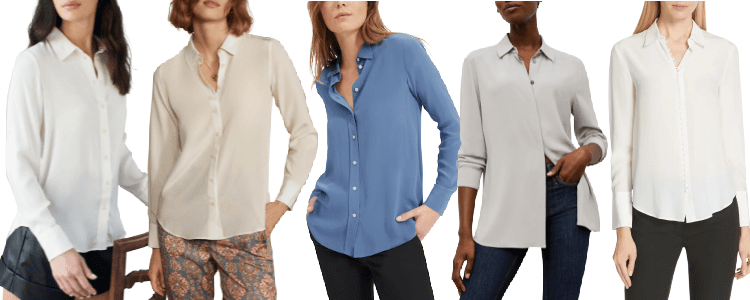 If you've got a problem with either type of blouse gaping, you may want to check out blouses made just for larger chests.
There are also a variety of products made to prevent gaping…
Some of the top products to help you fix a gaping blouse include:

Above, some solutions for gaping blouses: 1) Topstick toupee tape 2) double-stick medical tape 3) Flash Tape 4) Fearless Tape 5) black & white and colorful safety pins — see more clever solutions for workwear problems in our Amazon shop!
---
4. Sleeveless Tops for Work
Sleeveless tops, shells and blouses can be great alternatives to sleeved blouses and tees, particularly if you want a layered look with clean lines.
However (and this is a big however): note that bare arms are not acceptable for every office — so know your office before you take your blazer off!
Another big caveat: your dry cleaning costs will be higher for your suits and blazers, unless you magically never sweat. These are some of our favorites — you can see our whole roundup of sleeveless tops.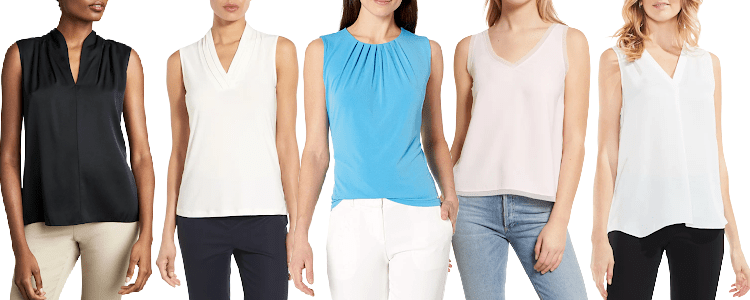 Some of our favorite sleeveless tops as of 2022: one / two / three / four/ five (not pictured but also)
While we don't recommend wearing a camisole by itself beneath a suit, it makes a great layer beneath other blouses if you're worried about opacity, cleavage, gaping and more — these are some of our latest favorites!

Pictured above, our favorite camisoles for work: one / two / three / four (25+ different color combos in a 4 pack!)– don't forget about demi-camisoles too, such as this, this or this — or chemisettes!)
---
Finally, some other thoughts on blouses for under women's suits:
Readers: What are your favorite perennial purchases for t-shirts and button-front shirts? What makes a t-shirt appropriate for the office, or makes you absolutely love a button-front shirt? Which are YOUR favorite tops for under women's suits?