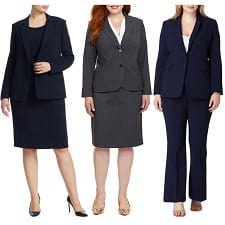 Here's a topic we haven't addressed in a while that seems apt since we just did our big roundup of the best women's suits in 2018: where to find stylish plus-size suits for work? Plus-size readers, please chime in — which are your favorite stores to buy plus-size workwear, from dresses to blazers to suits? (We're actually working on a story on plus-size splurges and investment shopping — please share any favorites if you have them!) We haven't talked about this since we did our last roundup of plus-size suits and more (including business maternity suits, petite suits, and suits for tall women) or the best workwear for plus sizes.
(If you are interested in plus size workwear, please sign up for CorporettePlus, our newsletter, for plus-size news as well as workwear picks in plus sizes! Signing up helps us gauge interest in the project, and we promise not to blast your email more than once a week at most. (Right now it's more like once a month.))
Wondering where to find stylish plus-size suits for work? These are some of the top spots we know of, in alphabetical order — your best bets for conservative interview suits are in bold…

Pictured at top: navy skirt suit / gray skirt suit / navy pants suit
No Suits, but Stylish Plus-Size Workwear of Note:
You may also want to check out our latest roundup of designer plus-size clothing for professional women!
* limited options for traditional suiting