Sure, we all know what wardrobe essentials for work professional women are supposed to have in their closets, but if you're buying one for the first time or replacing one you've worn into the ground, it can be a pain to find exactly the right incarnation in stores. In "The Hunt," we search the stores for a basic item that every woman should have.
Today we're hunting classic, comfortable work heels — perfect for interviews, a starter work wardrobe, keeping at your office, and more. A few things to note at the get-go:
of course you don't have to wear heels to work — check out our recent roundup of cute flats for the office
a note on comfort: comfort/walking with confidence is the top thing to look for — e.g., if you feel uncomfortable walking in 4″ heels don't get 4″ heels! — you should feel comfortable standing in your heels for at least an hour (such as at a networking event) and feel comfortable walking at least three blocks (such as to go to a restaurant near the office with clients). You can change into your commuting shoes for longer treks or other more specialized situations, of course
don't forget you can wear black with navy
take care of your shoes — scuffs, scraped leather, and more can be taken care of pretty quickly either by yourself or by a shoe professional — you can also replace heel tips and even the soles of your shoe with rubber portions to increase the comfort (here's our post on how to make your shoes last longer if this is a big problem for you!)
Ladies, let's hear from you — what are your most comfortable work heels? Are you Team Block Heel, Team Kitten Heel, or Team Stiletto? How long on average do your work heels last for you?
Before we get started, here are a few of the heels in our Hall of Fame category: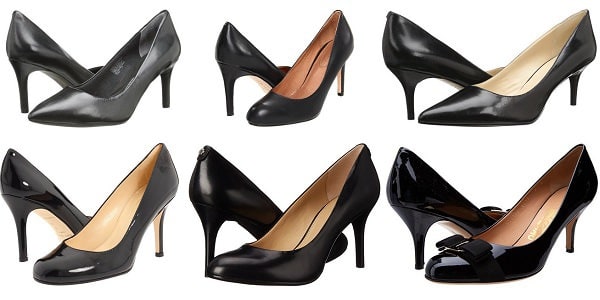 Pictured, row 1 (all under $100): one / two / three
Pictured, row 2 ($99-$600): four / five / six