Liking these posts? Follow us on Twitter or like us on Facebook — this is the edited version of what we're reading! (We also Tweet if we hear about a good sale through our CorporetteDeals Twitter feed.)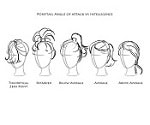 – BuzzFeed has a hilarious pictorial on how to predict someone's intelligence by their ponytail angle.
– The Working Wardrobe has a nice feature on plus-size blazers.
– Are you burned out?  Psychology Today has some good advice for "high octane women."  (Hat tip: Lifehacker.)  Meanwhile, Learnvest has some tips on how to better schedule yourself .
– She Takes on the World advises that women who have no time to work out should check out the HIIT workouts (the same type of workout advocated by our guest poster, Boardroom Babe Lindsay Vastola!)
– Lifehacker wonders how to improve your posture if you spend all day at the computer.
– Finally, if anyone is interested, I'll be live-Tweeting my thoughts on Golden Globe fashions on Sunday night (at least for the earlier portion of it!) — join me if you can!