Corporette would like to welcome its first guest blogger today — Marina from Makeup Loves Me!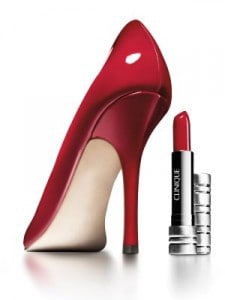 having a finished face makes the difference between a great outfit wearing you and the whole office thinking you look fantastic.
i am absolutely head-over-heels for the high drama makeup looks for this fall (lancome's piha red and piha black lip colors are pretty much all i think about), but i know you working girls may be conflicted about whether these dark, goth-inspired looks are office-friendly. to take editorial looks and make them work at 10am requires a little bit of negotiation, but it can (and should!) be done.
runway turned coffee run:
undone updos – no time to blow dry? just finger comb your hair into a not-too-tight bun and get to work already! lately i've been loving the genius behind ricky's bungee cords for securing my updos – they're the best combination of hair elastic and bobby pin in one.
matte makeup – this is probably the easiest fall trend to bring straight into the office. shiny makeup is usually a corporate no-no, so thank the makeup gods for bring 1994's shimmerless shades for eyes, cheeks and lips back. clinique's modern matte line is matte nirvana. not sure where to start? their stone violet shadow is universally flattering.
a black glossy lip – the mega dark lips that have been gracing magazine spreads clearly really convey "i'm so professional!" (unless your profession is dominatrix, then, rock those black lips) but take that hue down to a cherry shade, and you've got the perfect addition to your look for after work drinks. carefully swiping on a darker lippie for your "wine-down" takes 2 minutes and can change your whole look. no matter what your skin tone, check MAC's cult of cherry collection.
"nude" cheeks – you should never actually leave your cheeks completely bare, but beige has been the word in cheek color for the coming season. three custom color's wallflower is your best better than bare pick.
woodsy fragrance – the cooler air means heavier, more senual fragrances are in order. changing to a fragrance that is a bit heavier, but one that you are still comfortable is a perfect shift, particularly because scent is subliminal. collegues who see (and smell) you everyday will know something is different but they may not be able to put their finger on it.
and no matter what you do, enjoy fall 2008; it promises great things for beauty and fashion. if you haven't yet, please come visit me for all the latest is beauty at makeuplovesme.com.
Like what you've read about? Much of the makeup above is available at Nordstrom — links below: