There's an interesting story in today's WSJ regarding pantyhose, and how it causes a generational divide between workers. That's definitely true! We here at Corporette think they
should
be worn on the most formal of occasions — court appearance, meeting with the CEO, etc — but for daily work they aren't necessary. We were surprised, a few weeks ago, when we ran our first poll and 50% of you said that they weren't
ever
necessary.
At left:
SPANX All The Way Up! Pantyhose Hosiery.
Anyway, our jaw dropped when we read the article in the WSJ:
This is the issue that lately has occupied the mind of Jim Holt, president of Mid American Credit Union, a small financial institution in Wichita, Kan. Mr. Holt is 58 and a three-decade member of the U.S. Army Reserves. He joined Mid American, which has 50 employees, four years ago, inheriting a dress code that prohibited, for women, such things as boots and mules, or backless shoes. The company required "hose" at all times — even under pants.

When Mr. Holt attended a dress-for-success seminar that year, he got advice that caused him to loosen the reins on women's boots and mules. But not bare legs. The rule, "nylon hose and dress shoes are to be worn at all times," applied even to business-casual contexts. "We're not New York or San Francisco," Mr. Holt says, wearing ironed khaki slacks, an ironed golf shirt, and crisply creased socks. "We're the Midwest."
Even under pants? Ye-ow. (Although we do think there are times when Spanx or hose are appropriate under pants — white pants in particular.) But anyway. Yes, we ran a poll on this once before, but a) we've got more readers now and b) we've switched to a better polling software, so we've got the poll up and running again. Please opine! Pantyhose in summertime: Required? Not required? What are your thoughts?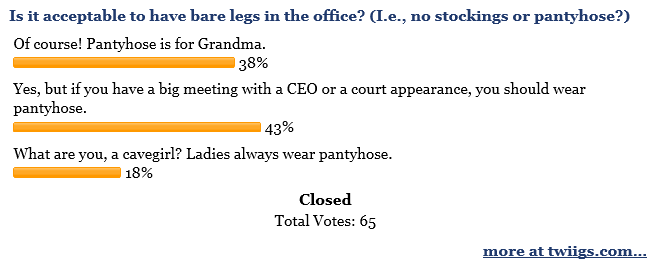 Bare-Legged Ladies: Hosiery Reveals Office Divide [WSJ]
We are a participant in the Amazon Services LLC Associates Program, an affiliate advertising program designed to provide a means for us to earn fees by linking to Amazon.com and affiliated sites.