Our daily TPS reports suggest one piece of work-appropriate attire in a range of prices. We begin the week in splurge mode, with our most expensive suggestions, and wind our way to Friday, where a less expensive item of clothing might be just what you need to make it to the weekend.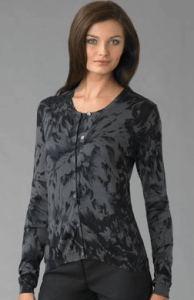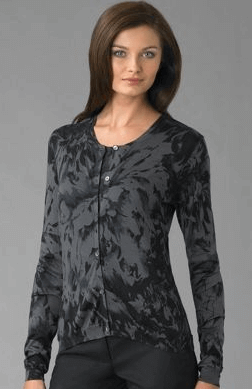 A good sweater set will take you through the summer with grace and style. We like this floral crewneck sweater from TSE, sold at Saks. You can wear it as a set, obviously, or wear the tank as a vest, on top of a collared button-down shirt. The best thing about the twinset is the ability to wrap the sweater around your shoulders for the hot commute into the office and then put the sweater on for the chilly air-conditioned day.
Tip: We've always found that the trick to the "cardigan over the shoulder" thing is to button the entire sweater (otherwise it looks like a cape), put the buttons against your back (not facing outward), and bring the arms up over the shoulder as neatly as possible and knot it once. We prefer to tie the sweater on top of our shoulders, rather than around our arms, but we've seen it both ways.