Damn you, Bunnyshop, for tipping us off to such a great sale. But lots of great pieces here for the office also. We're too tired to figure out how to make the pictures look the way we want them to (booo) but here's a hint of what's to come: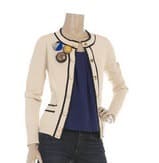 Tory Burch Eugina Rope Dress, marked to $175 from $350. Nice long length (unlike many of the other dresses on the site, which are waaaay too short for the office.
A great Marc by Marc Jacobs Dixie cotton sweater. We generally prefer our sweaters in silk or cashmere, but hey, we make exceptions. So adorable! Originaly $368, now $184. We also love the Marni brooches the good folks at Net-a-Porter styled the sweater with.
We went back and forth on this one for a while — that ruffle! — but it's so unique we had to pass it along: An Anna Sui Deco backless top, from $282 to $141.
We're thrilled to see that the art deco stuff looks like it's coming back in style.