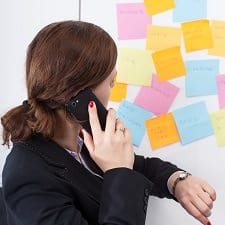 It sometimes feels like half of the people I know have a diagnosis of ADHD, and I think managing ADHD in the workplace can take some finesse — so I asked my friend A to write a guest post for us. Thank you and welcome, A! – Kat
Managing ADHD in the workplace (which encompasses ADD, an older term) can be very difficult, but what makes things even worse for women (and girls) is that they are underdiagnosed. Misdiagnosing women is common, too — for example, they're often told that their problems are caused by anxiety or depression.
I was diagnosed with ADHD in early 2016, not long after my son's diagnosis. I had done well in school, but academic success doesn't necessarily mean that a girl doesn't have ADHD. If a woman with ADHD manages to graduate from college without finding out she has the condition, getting a promotion at work can be the trigger for an eventual diagnosis, as can becoming a mom. The new pressures and responsibilities that come with these situations may be beyond what her previously-successful coping skills can handle, and she may feel that she has to seek help. A change like this can bring her from barely keeping her head above water to feeling like she's drowning. When a child receives a diagnosis of ADHD (which frequently runs in families), it also can lead to a mom with undiagnosed ADHD to wonder if she has it too.