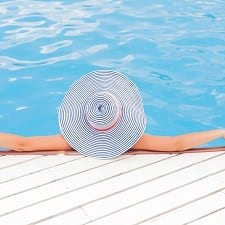 2018 Update: We still stand by this advice on what to wear to the office pool party — but you may also want to check out our recent discussion of swimsuits for professional women, as well as all of our advice for summer work events like this, including summer associate events.
What should you wear to the office pool party? Can you wear a bikini to an office function? Are women really "damned if you do, damned if you don't" when it comes to the summer work events like this? Reader B wonders…
My office is planning a couple "beach days" or "boat days" this summer. This will be primarily coworkers, but families may be invited to 1-2. I am the youngest person in my office by about 10 years and also one of very few females in my male-dominated company. We are a casual to business casual office normally.

What does one wear to something like this? I don't want to wear something my coworkers will be chatting about Monday, but my typical beach/swimwear (bikini + straw hat + little coverup dress) seems like it would perhaps be too risque for an office party?
After I sent her the post and discussion from the last time we talked about what kind of swimsuit to wear for an office function, B wrote back: