Sure, we all know professional women are supposed to have a pair of comfortable black pumps in their closets, but if you're buying one for the first time or replacing one you've worn into the ground, it can be a pain to find exactly the right incarnation in stores. In "The Hunt," we search the stores for a basic item that every woman should have.
Wow – I don't think we've done a Hunt on basic black pumps in a LONG, long while.  Which are your favorite black pumps right now, ladies? Do you prefer a more modern style like the popular Vince heels or Steve Madden heels featured below — or are you classic all the way, like one of our more traditional Hall of Famers? Do you personally prefer pointier toes or more almond toes (there are a ton of both on the market right now!) If you were looking for a new pump for an interview outfit, what would you buy? It's great to see so many options in low heels, high heels, and strappy pumps.
Update: Check out some work outfit ideas involving some of the pumps you see featured here!
(Curious for our previous roundups of black pumps? In addition to the several specific shoes mentioned in our Guide to Comfortable Heels, we also did a 2013 guide to interview pumps and to low heels, a 2012 guide to black pumps under $250, 2008 guide to basic black pumps.
Classic Black Pumps for Work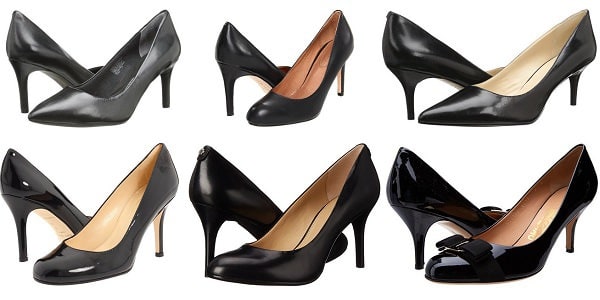 From our Hall of Fame category above! Pictured: 1 / 2 / 3 // 4 / 5 / 6
Six Trendy Black Pumps