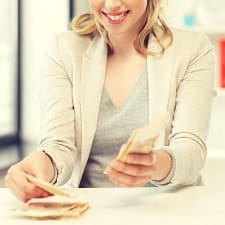 When you're applying for a job, do you have to give your salary history? How can you avoid providing it without taking yourself out of the running? More and more cities and states (NYC, California, Oregon, Delaware, etc.) have moved to target the gender pay gap by preventing employers from asking for salary history during screening and interviews, while Amazon and other companies are making the change on their own. (Note that, depending on the particular law, it's still legal for companies to ask for your salary history post-offer.) So let's talk about it today! What are your strategies for answering salary history questions on job applications and in interviews? What do you think about these new laws, and do you live in a city or state that has passed one?
We even got a question recently from Reader F, who had gotten burned by giving her salary history. As she explained:
I had 3 interviews with a large firm. I have 5 years experience in the exact field I was interviewing for. The firm has their 1st year associate salary posted online. At end of the 3rd interview they asked my current salary at my small firm. After pushing I gave it to them — it's $40k less than their 1st year associate salary. Through the recruiter they then offered me my current salary, and then upped by $20k. I declined, citing their advertised first year being way more. Why would this happen?
That totally stinks, reader F, and this is exactly the kind of problem all of the new legislation is aiming to prevent. (In this exact situation it might have been because she was interviewing for a non-partner track position — without knowing more about the job as listed and negotiated it's hard to say.)
The best defense is a good offense — and knowing how to respond to salary question. Here are a few recommendations from career experts on how to carefully navigate the salary question: