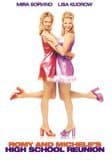 What should you wear to your five-year grad school reunion? Here's an emergency email from Reader L, who wonders:
I am going to my 5-year law school reunion this weekend (dinner, dancing, etc). First, what should my fella wear–he has a tux, but I think that it's too much, generally for functions he rocks a professor vibe (corduroy sportcoat and coordinating trousers)–is this appropriate, or should we go out and get him a new suit? Second, in real life I refer to him as my partner when I introduce him, as in "This is my partner, Henry." Should I just say something like "This is Henry." when introducing him? I admit that as a 30-something woman who has been in committed relationship for over a decade, the word boyfriend literally gives me hives, but I worry that partner might be a bit risque for this crowd, as it will include all of the reunion classes. The issue is that people just assume that we are married when we are out, and for those that we will never meet again, that assumption is fine, but the legal community is small enough here that I will see a lot of these people again, do I just explain later when people ask about my charming husband–any advice would be appreciated!
Wow. Ok. Lots of questions. First: Are you the kind of person who can get away with saying "This is my fella, Henry."? If not, just stick with "This is Henry" and bypass the question altogether. Or perhaps: "Do you remember Henry?" if it's someone who might remember Henry from back in the day.  Depending how strongly you agree with Meg Ryan's character's rant in "You've Got Mail
" about how people should have last names, you may want to include that:  "This is Henry Smith."  (Why yes, we are huge dorks.  Thanks for asking!)  People will assume that you're in a committed-enough relationship to bring him to an event, but will know that whatever that relationship is, it's modern enough that you and he still have different last names.  (On the "partner" point — we don't see anything risque about it.  But, given that it's a crowd of lawyers, people might not read a romantic relationship and instead think you've brought a colleague from the firm.  So we'd avoid.)
As for the clothes… we're very curious here what the readers think. We had so much fun at our 10-year high school reunion and our 5-year college reunion that we've avoided every reunion since.  (For those, jeans and a blazer was more than appropriate.)  Is this an event for which you've paid money — bought a plate, or a table?  Is it being held at a fancy venue?  Will you be wearing a plastic/adhesive name tag?  There are a lot of factors here, and our advice is similar to our advice on Tuesday:  call the venue and ask them what people should wear, and then also check with other friends who are attending.
Some rules of thumb that come to mind:
– If you're being forced to wear a name badge, no one should be in tuxedos or a long dress.  A suit is more than appropriate for "Henry."   (Given the crowd — lawyers — we would advise him to blend in with whatever he thinks the other men will be wearing, and that will probably be suits.)
– If the evening promises dancing, it's probably expected that women should not wear suits.  Some women will buck this trend and wear them anyway, we're guessing, and that's fine.  Whatever outfit you choose, remember that this is a networking event, and dress appropriately.  For our $.02, we would probably shoot for the realm of wedding guest attire — sequins aren't necessarily a good thing, and short dresses are acceptable.
Readers, what are your thoughts?
Vaguely related: