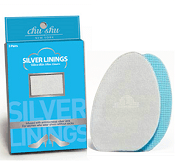 I was lucky enough to get a free sample of Silver Linings, ultra-thin shoe liners with antimicrobial silver ions — and really love them. They're intended for women who wear shoes without socks (of which I'm totally guilty). I was intrigued when I pulled them out of the box — they really are super thin, maybe a bit thicker than a manilla folder.  Because of this, they don't affect the way your shoe fits at all (in fact, I still had my Insolia inserts in at the same time I tried these out). After a day of wearing them, I noticed that a) my feet didn't seem to be sweating so much, and b) my feet weren't sticking to the inside of the shoes (or yanking up the padding in the toe box).  Finally, after wearing shoes for 6 hours with the inserts, I gave them the smell test: nothing, nada, no odor.  Nice!  They're available at Silver Linings for $15.99 for a pack of three.
Check out our review policy here.
Update: They're now available at Amazon – $16 for a pack of five.