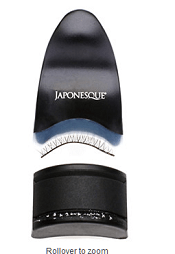 I thought today we would talk about the beauty and hair things that we want to like and adopt into our repertoire — but that, despite multiple tries, you still don't quite "get". Weird question, I know, but for me I can list a few things that are in this category:
– False eyelashes — I think I've gotten them to stick approximately ONCE — for a random friend's party sometime in 2001. I feel like they're so much more popular than they used to be (at least, I can't think of a single show I watch on television where the actresses aren't all wearing them, even for the "natural" faces) that I want to keep trying them, at least for nights on the town. Still: every time I get them out they end up not sticking or not sticking in a symmetrical way — and the glue inevitably screws up the rest of my eye makeup. (My latest thought: that I need to try one of the new "false eyelash applicator" things, such as Japonesque Lash Placement Kit, available at Beauty.com for $12 — any thoughts, ladies?)
– The "Curly Girl" Six Week Challenge (see, e.g., here) — I first did this after my post-wedding chop, but somehow failed to understand that "not shampooing" also meant you had to stop using all of those silicone-filled products that only shampoo can get rid of. The second time I did it I kind of understood this, but got exhausted from trying to understand all the different chemical iterations of "silicone" on ingredient lists. I'm now KIND of doing it a third time (and even finally bought Curly Girl: The Handbook
!), but I'm entirely relying on the "products" look-up at Naturally Curly to tell me which things have silicones — shockingly, 85% of my "curly" hair products do, even the small brands.
– The sock bun.  I think I'm giving up on this one, to be honest. The last time I was home I had my mother try to help me put my hair in one (why yes, I am 11), and even she thought it was impossible to get my hair neatly into one. On the flip side, I slept on the "headband curls" technique on the night before Christmas Eve, and woke up with beautiful, no-heat curls (that were far more beautiful than my own) and lasted for a fairly long time.
On the flip side, it was "third time's a charm" for the Spin Pins that so many commenters love. First few times I tried to use them they just weren't sticking. Second time I picked them up I realized it was a secure way to do my hair if it was sopping wet but I needed to run out the door, but only if I used 3-4 spin pins (2 packs). And the third time, I finally figured out how to use them in dry hair (it helps tremendously if I a) secure the ponytail with an elastic before I try to make a bun, and b) if I tease the pony before I try to make a bun).
So: am I the only one who keeps trying (and failing) and trying again with random beauty/hair things? Do you guys have similar stories (especially eventual success stories)?