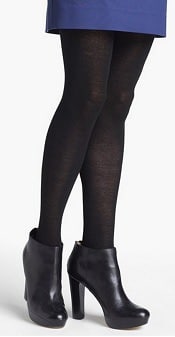 Are tights appropriate to wear to the office? What sort of shoes or boots look best paired with thicker tights?
Reader M wonders:
With winter coming on, I would love to see a post about what sort of footwear is appropriate to wear with tights in a conservative office. My current work shoe wardrobe consists entirely of your run-of-the-mill low-heel no-frill pumps. These work fine with hose, of course, and seem mostly OK with thinner tights (particularly if they are the same color) but they don't look quite right with thicker tights, like sweater tights or fleece-lined tights. I think I might need a bootie, or maybe an oxford pump, but I'm unclear on the professional/conservative boundaries of these trendier styles. Or maybe the answer is that thicker tights are just generally inappropriate for the conservative office altogether?
Interesting question. I know fleece tights were hugely popular among the commenters last year, and I've always been a fan of sweater tights and the like. But: are they professional? And what shoes look best with them?
(Pictured: Nordstrom 'Love' Sweater Tights, available at Nordstrom for $28.)
For my $.02, while I don't think tights (of any kind) are the most conservative option, I do think that they're acceptable for most offices, at least for casual days. (But as always: know your office!)  In many cases, though, I think that thick tights do look a bit inappropriate with sleek pumps. A few thoughts:
Avoid straps that will show how thick your tights are. I just don't think it's a good look to have a Mary Jane or T-strap cutting into your tights and making them seem a bit puffy.
Choose wintry shoes to pair with your winter tights. Boots and booties (if they're acceptable at your office) would work, as would oxford pumps. Suede wedges and heels (or flats, if you prefer) also work. Avoid summery shoes with cutouts or the like; I even think a d'Orsay style might look a bit odd with tights.
I'm curious, readers — would you make any other notes on which shoes to pair with thicker tights for a conservative office? Do you wear thick tights to your conservative offices? 
(Pictured, L to R: Hue Flat Knit Sweater Tights, $16 at Bloomingdale's; Hue Space Dyed Sweater Tights, $15.50 at Amazon; Plush Fleece Lined Tights, $35 at Bloomingdale's.)
—————
N.B. PLEASE KEEP YOUR COMMENTS ON TOPIC; threadjacks will be deleted at our sole discretion and convenience. These substantive posts are intended to be a source of community comment on a particular topic, which readers can browse through without having to sift out a lot of unrelated comments. And so, although of course I highly value all comments by my readers, I'm going ask you to please respect some boundaries on substantive posts like this one. Thank you for your understanding!