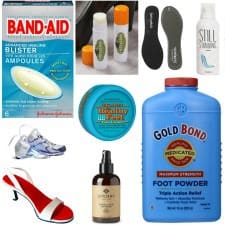 While we may be happy to welcome the warmer weather, our feet might not be. To help you tackle cracked, rough heels that remain after winter; painful blisters from shoes you haven't worn in months; sore feet from high heels; and sweaty feet, we've rounded up several foot care products that can help with summer foot care.
FootGloss All-Natural Foot Prep: This balm stick made from all-natural ingredients (and also made in the U.S.) is designed to prevent blisters. Just apply it to your foot where your shoes rub them, and it'll reduce the friction that leads to blisters forming under those tight spots. FootGloss is free of fragrances, petroleum, and parabens; instead it does the job with castor seed oil, olive fruit oil, beeswax, and more. It's available for $21.95 (for two tubes) at The Grommet and for $12 (for one o.5-oz. stick) directly from FootGloss.com. Psst: If you're plagued with blisters from stiff, unforgiving shoes, check out our Guide to Comfortable Heels.
Band-Aid Friction Block Stick: Here's another foot care product that prevents parts of your shoes from chafing and irritating your feet and creating blisters. (This one has a slightly lower price.) The main ingredient is an oil, like FootGloss — hydrogenated vegetable oil in this case — but unlike FootGloss, it's not fragrance-free. Still, reviewers seem to like how it smells. The stick is still listed on Band-Aid's site but is now sold out at most online sources, so you may want to buy right away — I have a feeling it's discontinued. You can buy what looks like an older version of the product at Amazon (free shipping; not Amazon Prime) for $9.99 (.34 oz. stick), Walmart has a couple 2-packs left for $16.20, and some Target and CVS locations still have it in stock. Foot Glide and its predecessor Body Glide are similar products that are also available at Amazon.