Sure, we all know what wardrobe essentials for work professional women are supposed to have in their closets, but if you're buying one for the first time or replacing one you've worn into the ground, it can be a pain to find exactly the right incarnation in stores. In "The Hunt," we search the stores for a basic item that every woman should have.
One of my mentors was recently on the hunt for a plain white sweater but could not wear any wool next to her body. I've often heard this refrain from readers — they want a 100% cotton sweater, or a 100% silk sweater, or a cashmere without wool, or cotton/cashmere, or so forth. So I'm going to try to start a series — first up, let's hunt for the best plain cotton sweaters for work.
Pictured on homepage: green / white.
Why Are All-Cotton Sweaters Hard to Find?
All-cotton sweaters can be a bit hard to find for a number of reasons. First, they tend to be generally lightweight — a lot of sweaters have blended cotton with wool, cashmere, or other warmer fibers in order to make a warmer sweater.
Another reason all-cotton sweaters haven't been very popular lately is they don't tend to hold their shape very well — so a lot of sweaters may be made of cotton blended with spandex or nylon in order to give it a bit more shape retention.
Finally, all cotton sweaters can feel scratchy to some people, particularly if they're used to wearing blends. Many cotton sweaters may be blended with things like angora or eco-friendly, recycled fabrics for a softer feel.
Where to Find Great Cotton Sweaters for Work
In general, some of the reader-favorite stores that carry 100% cotton sweaters for work include Brooks Brothers, J.Crew Factory, Amazon Essentials, Quince, Karen Scott, and Amour Vert. Nordstrom also keeps a separate section for 100% cotton sweaters!
Other stores that may be a bit more on the casual side but definitely carry 100% cotton sweaters include pact, Everlane, Lands' End, and L.L.Bean. (If you prefer to buy men's cotton sweaters, I haven't done a full review, but in addition to everything we've mentioned already, do check out Amazon seller Lello for basic organic cotton sweaters under $40.)
Our Favorite 100% Cotton Sweaters for Work Outfits (And Beyond!)

The Best Plain Cotton Sweaters for Work
The Best Cotton Sweater Jacket for Women: J.Crew Factory
We just did our big roundup on the best sweater jackets for the office, and J.Crew Factory maintained its spot amongst our favorites. They reliably offer affordable, stylish sweater jackets in basic colors up to size 3X. Currently, all of the sweater jackets in stock are 100% cotton — nice.
If you're willing to splurge, check State of Cotton — their sweater jackets are pricey but beautiful, and 100% cotton. If you want something a bit more oversized but still affordable, Quince offers a 100% organic cotton sweater jacket. Lands' End also has a lovely "fine gauge" cotton sweater blazer in a bunch of different colors, in regular, petite, plus, and plus petites.
The Best Cotton Sweater Lady Jacket: J.Crew
The "sweater lady jacket" is a newer, trendier item. It's also sometimes called a cropped cardigan, cropped blazer, or Chanel-style jackets for work (as we called them in our roundup), but whatever you call them it can be difficult to find some that aren't a blend of nylon, wool, rayon, and so on.
J.Crew has a number of sweater lady jackets (as they call them) right now, and the pictured Emilie one is 100% cotton. (Others are not, unfortunately.) The sweater is available in seven colors in sizes XXXS-3X.
(Sister site J.Crew Factory also offers a 100% cotton sweater lady jacket.)
The Best Organic Cotton Sweaters for Work: Amour Vert
Some of the most interesting cotton sweaters for work are also the best organic sweaters for work: Amour Vert. The smaller brand has been a reader favorite for their eco-friendly, natural fibers, as well as their stylish prints and generally affordable prices.
They currently offer a number of long-sleeved organic-cotton sweaters, short-sleeved organic-cotton sweaters, and organic-cotton cardigans.
Other affordable options for organic cotton sweaters: Quince, Everlane, and pact.
The Best Plain Cotton Sweater for Work (AND The Best Cotton Sweater to Wear Under a Suit Jacket): Amazon Essentials
This post was partly inspired by my former boss/mentor, who mentioned in conversation that she was looking for a great cotton sweater to wear under a suit jacket. (Well, more specifically, she was looking for a non-wool sweater, due to allergies.) This has been surprisingly hard to find for this roundup!
One of the best plain cotton sweaters I've found that's thin enough to wear under a suit jacket are the Amazon Essentials ones. They come in crewneck and V-neck styles, in a bunch of colors, for under $35 — and in general they're available in sizes XS-6X.
Another nice plain cotton option: this sweater from pact.
The Best Cotton Sweater Tee for Work: Lands' End
This is another fairly difficult category to find good options. Lands' End has a lovely fine gauge cotton sweater tee in a bunch of colors for regular and plus sizes!
sdf
The Best Cotton Cable Knit Sweater for Work: Karen Scott
Surprisingly, this is one of the more difficult categories for finding a 100% cotton option. Karen Scott at Macy's has a bunch of different options in colors, sizes, and shapes (crewneck, V-neck, oversized, etc.), so that would be my first suggestion.
L.L.Bean also has a lovely fisherman's sweater that looks polished enough to wear to work; it's available in regular, petite, and plus sizes; Brooks Brothers also has few Supima cable knit sweaters.
On the more casual side of things, pact has a honeycomb textured sweater that's a bit sweatshirt-like, but in general looks nice.
The Best Cotton Mockneck for Work: Kule
If you like the mockneck look, I'm in love with this 100% cotton sweater from Kule. They describe it as a "cable knit roll neck pullover," but to me it looks like a mockneck (and I think the half-turtleneck look is more polished than a rolled neck, but maybe that's me!). It's available in four colors, sizes XS-XL, for $238 at Kule.
The Best Cotton Twinset for Work: Brooks Brothers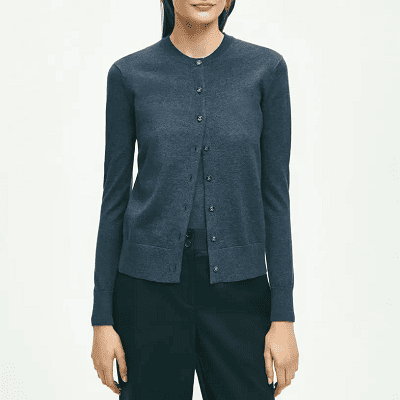 Twinsets are always a classic look, even if they aren't particularly trendy at the moment. If you're on the hunt for a 100% cotton twinset (whether to wear the pieces together, or just wear the cotton sweater shell and the cotton cardigan separately), there are still a few great options.
One of those options is Brooks Brothers. (Brooks Brothers for classics? I know, you're shocked.) The pictured Supima cotton cardigan comes in four colors, sizes XS-XL.
Another spot with 100% cotton twinsets: J.Crew Factory; they currently offer 10 colors in sizes XXS-3X. Lands' End also offers a TON of cotton twinsets in regular, petite, plus, and plus petites.
Some Great Trendy All-Cotton Sweaters for Work
Finally, I thought I'd round up a few of the trendy all-cotton sweaters I'm seeing for work — these don't fit neatly into any of the categories and the style and cut may be fleeting, but they look great right now.

Where to Find Cotton-Cashmere Sweaters
This isn't the focus of this article, of course, but on the off chance you're looking for cotton cashmere sweaters — which can be really hard to find! — I thought I'd round up some names I'm seeing.
As of October 2023, you can find cotton-cashmere sweaters at L.L.Bean, Quince, Reformation, Mersea, and Alex Mill; you can also sometimes find them from brands like Nordstrom Signature.
Like this feature? Check out other recent installments!