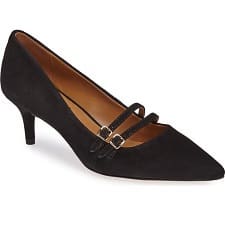 I've always liked a low, somewhat strappy pump, and these lovely suede ones from Coach are getting great reviews over at Nordstrom. I've always thought a 2.5″ heel is one of the most walkable options, but that's me — how high do you prefer your heels, readers? The pictured pump is $165.  COACH London Pointy Toe Pump
Oooh: this $119 heel is on sale at the Coach site and is also 2.5″ — lovely.
Check out our Guide to Comfortable Heels for other reader favorite brands!