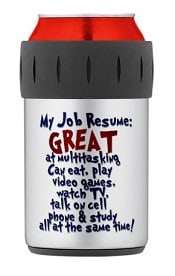 2017 Update: We still love this discussion of how to get your resume noticed — but you may want to check out some of our more recent advice on resumes, including 6 resume rules for 2017.
How can you get your resume noticed? We have another emergency e-mail, this time from reader M, who wonders how to get her resume to stand out from the pack:
There is a job opening in a creative field that is right up my alley at a company I'm very passionate about. Among other things, this company is a bit offbeat and irreverent. I want to apply with a creative flourish but want your and readers' advice as to whether this approach has the potential to backfire.

I truly think the people making the hiring decisions would really appreciate the novelty of a bold move: I could find their favorite lunch delivery spot and have my resume delivered along with their regular order. A bit off the wall but is that what it takes to distinguish yourself these days in this economy? I'd love to hear about your hiring/interviewing experiences for some guidance.
This is an interesting question, and I hope the readers can offer you some interesting feedback! For my own $.02, I'm normally against these kinds of gimicky things to get noticed because, in theory, your resume should speak the loudest. However, if the creative field has anything to do with getting people's attention, your idea isn't bad — it shows you're resourceful (found their favorite lunch place), and determined to get their attention. (Although I might worry about your resume getting soiled by food stains or getting crinkly from steam… but that's me.)
I think the best advice I can offer here is to figure out if you know anyone at the company, or if you know anyone who knows anyone at the company. Seriously, go as far into your connections as possible. Poll your friends on Facebook, scour your LinkedIn connections, send the query to your college listservs — you might even try giving the career office at your alma mater(s) a call to see if they know of any graduates working there. (Perhaps try your favorite professors, also, if you're still in touch with any of them.)  Ask your significant others/parents/best friends to do the same for you. Find a personal connection. Take care to be fairly vague in what you're asking in case your current boss somehow sees your query.
Then, once you've got a connection, do your best to connect — everyone has time for a 15-minute phone conversation, or  for someone to drop by their office for an informational interview for a friend. This connection will be able to tell you — far better than I will, or the readers will — how to get your resume to stand out, and how to ace the interview once you've got it.
Readers, what are your tips?
(Pictured.)