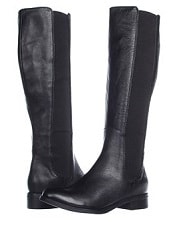 2017 Update: We still like a lot of these flat knee-high boots, but you may also want to check out our most recent discussion on what boots to wear with tights to work as well as our most recent round-up of the best knee-high boots for commuting, work, and beyond!
Sure, we all know what basics professional women are supposed to have in their closets, but if you're buying one for the first time or replacing one you've worn into the ground, it can be a pain to find exactly the right incarnation in stores. In "The Hunt," we search the stores for a basic item that every woman should have.
Although knee-high boots are always a "know your office" situation, I think they're gaining more and more acceptance, and can be a comfortable, casual look with dark tights and skirts, to very casual days with skinny jeans. As we mentioned in last year's flat-boot roundup, I think you want your outfit to look intentional (and not "never got around to changing out of my commuting shoes"), and go for a sleek look, avoiding slouchy boots, heavy treads, or Western influences.  As I would when looking for any classic, doesn't-change-too-much shoe, I started my search in the bargain bins. Readers, how often do you wear flat knee-high boots to the office?  Which brands and styles are your favorites (and have you seen any good deals lately)?
(Looking for boots with a bit of a heel?  Check out our recent roundup of low-heeled tall boots (all with heels under 3″!)
I'm not that familiar with Natural Soul, but it is a Naturalizer brand, and the price is hard to beat.  I like the thinness of the straps, too, as well as the cushioned foodbed. These were $99, but are now marked to $69 at 6pm.com today; they're available in black and brown. Natural Soul Vanity Black Smooth
These Polyana boots from DKNY look sleek and minimalist, and I like that the shaft dips lower in the back.  The boots are 55% off today at 6pm — were $198, now $89.  (Available in black and brown.) DKNY Polyana Boot
These Nine West boots are highly reviewed over at Zappos, where they're $100-$135 (down from $169). The plain leather ones are technically less expensive at 6pm ($92), but if you're like me and love free shipping and free returns (plus a long return policy), I'd prefer to buy from Zappos. Nine West Partay
First: these boots also come in black (pictured at the very top of the post).  That said, they also come in red (pictured here) and nice lighter brown.  I am not a red-knee-high-boot person at all (at least, I didn't think I was), but if I were, these look amazing.  The low heel and dark suede color … love. Again, Zappos has higher prices (both the black and tan are marked from $348 to $229), but free shipping and free returns; 6pm is the only one with the oxblood red, though (limited sizes!) for $226. Cole Haan Jodhpur Boot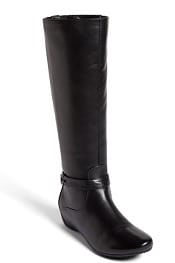 This highly reviewed boot at Nordstrom looks great — and I love the fact that it's waterproof, with sealed seams.  It looks sleek and comfortable (and, interestingly, comes in sizes 5-12) in brown and black.  It's $265. Blondo Jeane Waterproof Boot
Readers have sung the praises of Attilio Giusti Leombruni in our guide to comfortable heels, so this sale — even with limited sizes — is still fairly noteworthy. I love the lizard-embossed leather on the trim, and the general shape of the boot; the rubber sole looks like it'll really grip slick subway stairs.  The boot was $580, but is now marked to $290. Attilio Giusti Leombruni Tall Boot
Like this feature? Check out other recent installments!