Today's guest post is written by Kalyn Johnson, a new friend of ours — a former corporate lawyer, she is now a fashion stylist and blogger.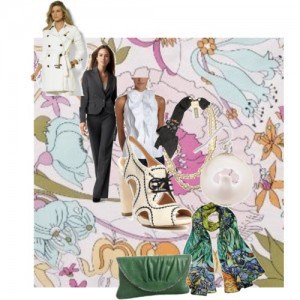 If this past weekend's weather is any indication, Spring might be here to stay. But, Mother Nature usually has a few tricks up her sleeve when it comes to permanent nice weather and I'm not expecting this year to be the exception. The hardest thing about transitioning from a Winter wardrobe to a Spring one, is having the right clothes to wear for those in between days. You know, the days when it's 50 degrees and chilly although it was balmy and in the 70s over the weekend. And honestly, 70 degrees in April is just not the same as 70 degrees in June.
So, what's a girl to do?
The first step is to dedicate a few hours to cleaning out your closet. A lot of people dread cleaning out their closets, but I love it for two reasons:
(1) It's an opportunity to cull (i.e., get rid of the stuff you held with hopes of wearing only to find that it never left your closet) and refine your Winter wardrobe before retiring it; and
(2) It's always fun to shop in your closet and rediscover gems you've totally forgotten you own.
Next, pack up and store your true Winter items – coats, furs (faux and real), boots, bulky sweaters and the like. Keep things like your wool and cashmere cardigans for layering, a few of your wool sheath dresses, suits, slacks, skirts and maybe a black turtleneck to integrate with items in your Spring wardrobe.
This Spring it's all about neutrals, florals, bright colors and statement jewelry. So, as you organize your Spring clothes, pull out your trench coat, brightly colored t-shirts and shells, light or bright colored pashminas, romantic blouses, sparkly baubles and anything with a floral motif to mix-and-match with the Winter items you've left out to create your Winter to Spring Transition wardrobe.
The final step is to mix-and-match your "transition" outfits. I promise that you will save yourself time and anxiety in the mornings to come if you take the time to mix-and-match your outfits. Doing this upfront will save time on the back-end and will ensure that you're bedroom won't look like a tornado hit it each time you leave in the morning. Et volià! Getting dressed in the am will be a cinch – you'll have 15 extra minutes to sleep, work out or spend time with your significant other.
Now that you've got something to wear for the next few weeks you can turn your attention to what's HOT for Spring 2010. What's even worse than not having something to wear during the transition from Winter to Spring is Spring finally arriving and not having an updated Spring wardrobe! If you need help trying to figure out which Spring trends to incorporate into your wardrobe, check out my blog, Possess Your STYLE, for some tips and ideas and of course feel free to shoot me an e-mail.
Happy Spring!
p.s. Here's a little detail on the items pictured above, all available at Amazon: Lauren Jeans Co. Coat, $179; AK Anne Klein Petite Jacket, One-Button, $99.98 and Pants, $59.98; Kenneth Cole Women's Ruffled Blouse, $34.33; Double Strand Pearl Necklace, $119.99; Silk Scarf, $34.99; L.A.M.B. Women's Hoshi Slingback Tie Pump, $227.77; Large Faux Pearl Dangle Earring, $10; Pashmina Cashmere Scarf,$29.99; and Lauren Merkin Ava Stingray-Print Clutch, $295.

Fashion Stylist and Lifestyle Blogger, Kalyn Johnson is a former corporate lawyer who turned in her precedent binder to pursue her passion of making fashion attainable. Her company, Style by Kalyn Johnson, is a style consultancy focused on personal branding for professionals. Kalyn dresses men and women who who don't have the time to focus on how they look but who know that looking the part is a part of the formula for success.