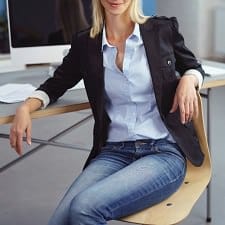 Even though our focus here at Corporette® tends to be on conservative business attire (women's suits and sheath dresses for the win!), we've done a TON of posts over the years offering advice on business casual — so we're happy to announce our new Guide to Business Casual for Women! We've rounded up some of our best posts over the years (and identified a few obvious holes, like reviewing the different "types" of business casual offices women may encounter, from smart casual attire to casual business attire to California professional — stay tuned for that one). Hopefully this will be a great resource for you if you've got a business casual conference, an informal interview, or if you transition from a conservative office to a business casual office. We intend this to be a living page that we'll update regularly, much like our Guide to Comfortable Heels and Wardrobe Essentials for Work.
Some questions for you, ladies, possibly for future posts and additions to our Guide to Business Casual for Women:
what other business casual advice would you be interested in seeing here at Corporette®?
who are your favorite business casual fashion bloggers, Instagrammers, and YouTubers? What are your other favorite sources of advice on business casual?
for those of you in very conservative offices, do you find that "business casual" still has a place in your wardrobe? (Or is "business casual" whatever's left when you take off your blazer, or wear to work on the weekend?) — on the flip side, do you feel like your conservative offices are inherently becoming more casual?
what's your "safe" outfit when someone says "oh, wear business casual"? If you were building a business casual wardrobe, what would you buy first?
what would you wear on the first day to a business casual office, when you interviewed in a suit but know that's too formal for the office?
What else would you want in a guide to business casual for women? Do tell… 
Picture credit: Deposit photos / racorn.