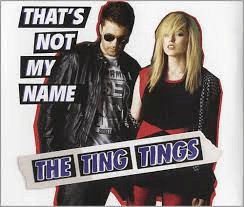 If you have an old nickname, how do you get coworkers to stop using it? Reader B wonders about just this problem…
I am interested in advice regarding nicknames in the office. I started working in my office straight out of college at around 22. I was a very young looking 22 year old with a positive and eager personality. I became a quick favorite in the office since the next youngest was late 30's and they gave me a pet nick name as a term of endearment. At the time I was really flattered since VP's and Sr. level C-suite management referred me to this and I felt on the same level as Madonna since just my initials stood for me, I didn't even need a first or last name, everyone knew it was me.

Time has gone by and now I am in my mid-30's and I find it cringing to hear, being introduced as, etc. I'm not sure if I'm being over sensitive, but I just don't care for it and would like to be addressed as my first name. I sign all my emails with my first name and introduce myself to people with my first name, but when someone comes around and calls me my nick name, the new people grab on to it. Any advice on how to turn something like this around?
Ah, nicknames. This can be a tricky situation, as people who knew you under one name have a problem thinking of you in any other way. Some ideas (beyond listening to The Ting Tings):
– Talk to people about it. This will be easiest with the people you're closest to — let them know that it seriously bothers you. Ask them to help you lead the charge in changing your nickname around the company. They can stop introducing you to people as the nickname, and hopefully even start using your given name. I have one friend who did this (she wanted to stop using the "ee" ending on her nickname and go by her full name instead) — it's a struggle, but I hope I've managed to make the switch!
– When you are being introduced in a group setting, don't let them use your nickname. If someone uses it, gently correct them: "Actually, I go by ___ professionally now." That way you stop it from being passed on, and inform your older coworker that your nickname is no longer the name you'd like to be called.
– Finally, it sounds like you've already done this, but I'll say it anyway: stop using the nickname yourself. Remove it from your email signature, your voicemail, your business cards, and so forth. Furthermore, refer to yourself in the third person as often as possible, particularly when telling stories. "And then my husband said ____, let's DO this," or "I said to myself, ____, you cannot forget the beef!"
Readers, what are your tips for getting rid of an old nickname?
We are a participant in the Amazon Services LLC Associates Program, an affiliate advertising program designed to provide a means for us to earn fees by linking to Amazon.com and affiliated sites.