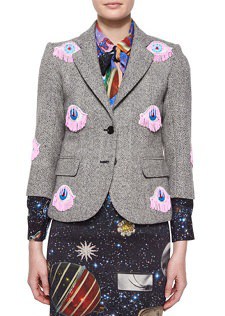 Our daily workwear reports suggest one piece of work-appropriate attire in a range of prices.
Whoever said fringed pink eyelash appliques don't have a place on a $3,000 wool blazer is clearly drinking crazy juice: look how great it is! In a refreshing twist, I particularly like that while most zany workwear is of the "business in the front, party in the back" model, this one looks totally plain from the back — so if your boss first sees you walking away from him or her in the hall, it will be a pleasant surprise when they see you face-to-face later in the day. (I suppose it makes sense — you don't have eyes on your back, now, do you? Der.) The blazer is $3,000 at Neiman Marcus. Libertine Two-Button Blazer with Eye Appliques
Seen a great piece you'd like to recommend? Please e-mail [email protected]
Psst: Curious what we've posted on this day in years past? Check 'em out here.