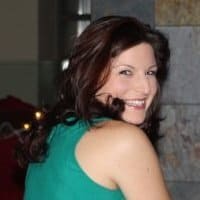 2018 Update: We still think this is a great discussion about The Lunchtime Body Blitz Workout, but you may also want to check out our more recent discussions on exercise.
Today's guest post is by Lindsay Vastola, CFT (pictured), who has a cool new blog we just found for women executives: Be a Boardroom Babe. She's put together a lunchtime workout for us to maximize time…
If you're as limited on time as I am (or have a limited attention span for exercise), you may want to seriously rethink your workout routine.
I used to think that if I didn't have time to workout for at least a full hour, it made no sense for me to workout at all. You see, I was taught the "old-fashion" rules of exercise…longer workouts = better results. When I was working long hours at my last corporate job in New York City, I would often forgo my workout all together because I didn't think I had enough time to get in a "good" workout (not to mention the fact I was continually stressed, tired, and overworked…even though a workout would have been the perfect antidote…sound familiar?).
Since making my career-change from corporate manager-to-personal trainer, I've spent a lot of time researching how to create effective fat-burning workouts for my clients who are primarily success-driven working women on tight schedules given the demands of their careers and schedules.
So here's what I discovered (and what is backed up by loads of research): the problem with the "old way of exercising" is that in a typical workout you might spend 30-45 minutes of slow cardio on the treadmill and then 15-30 minutes of moderate resistance exercise. Problem is, you basically wasted almost an hour of the valuable time you could be getting work done, setting up meetings with your important clients, hanging with the gals, or shopping for that new top-notch wardrobe (recommended by Corporette.com of course!).
Oh…and worse yet, you wasted a great opportunity to set your body up for maximum fat burn. You're getting ZERO return on your investment.
High-intensity interval training (HIIT) is my cardio training of choice. Why? Because it works. Plain and simple. And I don't waste my time. I love working out, but frankly, I've got better things to do. I hate wasting time…I bet you do too.
You need to do these high-intensity interval workouts to burn maximal fat and maintain muscle and give up long, boring cardio for good!
Here is an intense workout I call my "Lunchtime Body Blitz" you can do in about 30 minutes or less, start-to-finish. You'll not only burn maximum fat calories during your workout, but this method of training will amp-up your calorie "afterburn" (basically the calories you burn post-workout for several hours following your workout) and will enhance your results helping you reach your long-term fat loss and fitness goals.
The Lunchtime Body Blitz workout has two parts: part 1 is a HIIT cardio workout and part 2 is a circuit-style bodyweight resistance workout. You can do this workout anywhere since it really does not require any equipment. This makes for a great travel workout too!
Part 1: HIIT Cardio Blitz (print out the workout chart below and take it with you wherever you workout!)
You can do your HIIT cardio workouts on a treadmill, running outside, biking, on a stair climber, elliptical, swimming, stairs at home or in a stairwell, jump rope (great when you're travelling), jumping jacks….get creative!
The goal is to give maximum effort – you should be exhausted by the end…and don't do extra cardio!! Long, boring cardio workouts ARE NOT EFFECTIVE for fat burn (unless you are training for a marathon); more does not equal better in the case of cardio for fat loss.
For the time indicated for each round in the "Work" column, you will give maximal effort. On a scale of 1 to 10, you should be working at about a 6-8…out of breath and difficult to hold a conversation. Then for the time interval indicated in the "Rest" column next to it, you'll bring your effort down to a 4-6 level. For example, if you are running outside or on a treadmill, you'll run hard/sprint for the "work" interval, then bring it down to a jog or fast-paced walk for the "rest" interval then go right into the second round. In lieu of running, you could also use the incline function on a treadmill as your "Work" period and then level it out for "Rest" (great work for the legs and glutes).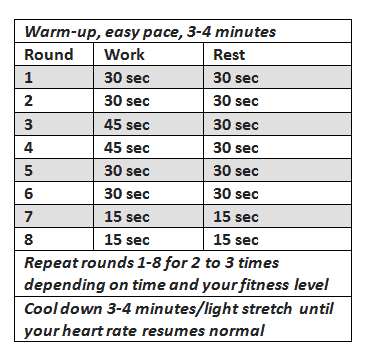 Part 2 – Resistance Blitz
You'll do exercises 1-3 for 30 seconds each and rest for 15 seconds before moving to the next exercise. Repeat the complete circuit 2-4 times depending on time and fitness level.
Exercise #1: Wide Squat (legs, butt, thighs, and core)
Exercise #2: Pushups (shoulders, chest, back, triceps, and core)
Exercise #3: Ab throw-downs (abs and core)
1. Wide squat: Stand with your legs slightly wider than shoulder width. Slowly squat aiming your hips slightly back (as if you're trying to reach for a chair behind you) and return to the standing position pushing up through your heels.
2. Pushups: If you can't do full pushups (no girlie ones here ladies!), use a table or set of stairs to start at an incline and then as you get stronger, gradually work your way down to the floor.
3. Ab throw-downs: Lie on your back, with a bench or the foot of a bed or sturdy bench at your head. Reach back and grab the "post." Start with your legs up straight in the air. Slowly lower your straight legs, as low as you can go without allowing your back to arch off the floor (don't let your feet hit the floor), then bring your legs back up to the start position.
I know you'll love this high-intensity, time-efficient Lunchtime Body Blitz…try to do what you can in 30 minutes or less. Work hard, push yourself, and I guarantee you'll feel awesome, burn off some extra stress, and get closer to your fitness goals. Intensity-over-time always wins when it comes to quality fat burning workouts…not to mention it will make it a lot easier to get in those workouts amidst your daily craziness!
Lindsay Vastola, CFT is corporate manager-turned-fitness professional specializing in designing fitness programs for the success-driven career woman. Updated frequently, you can find information on Lindsay's latest transformation programs, online workouts, and nutrition tips on her blog at http://www.BeABoardroomBabe.com. She is also the founder of Body Project Fitness located in Central New Jersey. Her goal is to help the ambitious career woman get to the top and look damn good while she's at it!
Readers — what are your favorite lunchtime workouts?