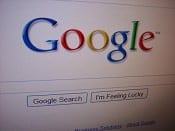 What will potential employers find when they Google your name — and what can you do if you don't like what they'll see? How can your own website help you manage your personal brand online? Reader T wonders…
I have a question about personal websites for lawyers and professional women.

Before law school, I had a reasonably lengthy career in an unrelated (and somewhat internet-based) industry. This means that when you Google me, you get a million hits unrelated to law, and can find lots of things I've written about pop culture, television, and movies. I'm not embarrassed by that work at all, but I know it can read as non-professional. So when I went to law school, I created a personal website that included both material from my previous career and information about my work as a law student. But now I'm graduating and going to clerk, and I'm worried about projecting professionalism.

Should I take down my personal website altogether? (Does a lawyer really need one?) Continue to include both my legal resume and my pre-legal work product? Scrub the non-legal stuff? Scrub the legal stuff and have it only relate to my previous work? Any advice is appreciated!
This is a really interesting question, and one that I see being more about controlling your past on the Internet and less about the propriety of personal websites (which we'll get to in a second). Who among us, after all, hasn't written pages upon pages upon pages of commentary on a show you really liked back when, say, you were a senior in high school and didn't have anything else to focus on? Just me and VR.5? OK then. (Amazingly it all seems to be gone now, a mere 20 years later — I swear just 5 years ago there were still hits.) But my point is: stuff is out there. And it's incredibly hard to take down — so hard that I generally don't recommend trying unless you know the site owner(s) personally.
So for my $.02, Reader T, I absolutely recommend keeping a personal website — get control of your search results, present the information you want to be seen and in the light you see it. I actually did Google Reader T, just to see what came up. Pro: Her own page came up first. Con: Her own page wasn't very professional — basically just a picture and a paragraph that was the equivalent of waving "Hi, you may know me from X, Y, and Z, but now I'm a lawyer." In this case, it felt like a bit of a missed opportunity. Were I Reader T, I would want to use the page to show a) my primary focus is now legal issues, and b) to try to control and explain some of the older stuff out there on the web. To that end I would have two, maybe three pages on a personal website:
1) The main page that discusses who you are, what your legal interests are, and perhaps a blogroll of some of your favorite content in the legal space — what blogs or newsletters do you read? If you can swing it (commitment is key here), start a blog with brief thoughts about some of the articles you're reading. "I recently thought Y article was interesting; it made me think about X cause; I learned Z." That kind of thing. This shows your future employers that this is your main interest now and you are very vested in it — it also is going to slowly start to affect your search results so that when people search on those topics, you come up as a thinker in the space. Win win. Update: As readers note, this may not be the best option for Reader T, who is clerking — know what the ethics rules about this are in your jurisdiction, lawyers!
2) On a separate page (not the main one) I would say something like, "Before I was a lawyer, I did ___. This is some of my work in the space." Then link to some of your favorite articles, perhaps with a brief (serious) few sentences about what you liked about each one — what you liked about the show, why that particular article was fun to write, what kind of work went into writing that article. This will help put a seemingly wacky topic into perspective for future employers. On the flip side, maybe — like me and VR.5 — you're a bit embarrassed about this trove of information. That's ok too — a page like this will give employers more information and more context than a list of Google search results.
3) On a third page I'd have a basic "About Me" section if you want. A picture, a contact form, maybe some basic information on your city, school, or employer — all with the thought, "If future employers and colleagues Google me, they will find this first."
Now: does someone with a squeaky clean Internet history need a personal website? To read some career sites, the answer is YES, yes you do (or: a personal newsletter!). But I'm curious to hear what readers say here — I think a personal website can be a lot of work to maintain, and an outdated one is worse than none at all.
Ladies, what are your thoughts on controlling your Internet history — and, do you think maintaining a personal website is worth the effort to manage your image online?
Pictured: Google!, originally uploaded to Flickr by 7OA.)
—————
N.B. These substantive posts are intended to be a source of community comment on a particular topic, which readers can browse through without having to sift out a lot of unrelated comments. And so, although of course we highly value all comments by our readers, we're going to ask you to please keep your comments on topic; threadjacks will be deleted at our sole discretion and convenience. Thank you for your understanding!